Print Article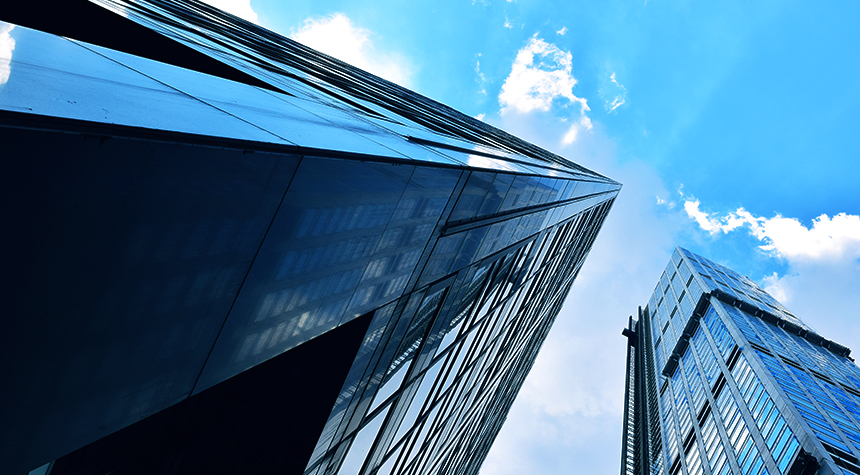 January 2015 — OVER THE YEARS, we have advised on more than 600 venture transactions, conducted dozens of research studies on joint venture performance and practice, and written more articles than we care to count.
And what have we learned?
Quite a lot, as it turns out. First, we have come to a much fuller appreciation of the unique challenges of joint venture dealmaking, and how the work of dealmakers can have such a profound influence on the ultimate success of the entity created. Second, based on recent analysis and thoughtful input from some of the most experienced venture dealmakers in the world, we have identified a set of Standards for JV Dealmaking Excellence. These standards include 20 practices that we believe differentiate successful joint venture dealmaking from approaches that are prone to inefficiencies, omissions, and mistakes. We assert that failure to meet any of these standards can sink a deal or severely handicap a company's future returns.
The purpose of this note is to summarize the gaps in joint venture dealmaking, outline the consequences of failing to address them, and illustrate a few of our Standards for JV Dealmaking Excellence.
Gaps and Consequences
Gaps
Joint ventures account for 15 to 25% of the typical global company's annual income, asset base, and market value. The world's largest public, private, and state-owned companies enter thousands of serious joint venture negotiations each year. But successfully consummating a joint venture transaction is not easy. JV dealmaking has the potential to seriously stretch a company, especially when its JV experience is limited, or when pure M&A approaches dominate. Ankura is currently conducting a broad-based research study on how companies perform across different aspects of JV dealmaking, which includes a detailed review of 50 JV transactions, and direct input from dozens of dealmakers.
The results reveal middling performance. When evaluated by core deal workstream, companies are delivering fairly pedestrian results (Exhibit 1). Apart from Regulatory Approvals and Management, no dealmaking workstream has more than 40% of companies performing at strong levels by our standards. And each workstream has notable gaps.
---
Exhibit 1: JV Dealmaking Gap Assessment – By Core Workstream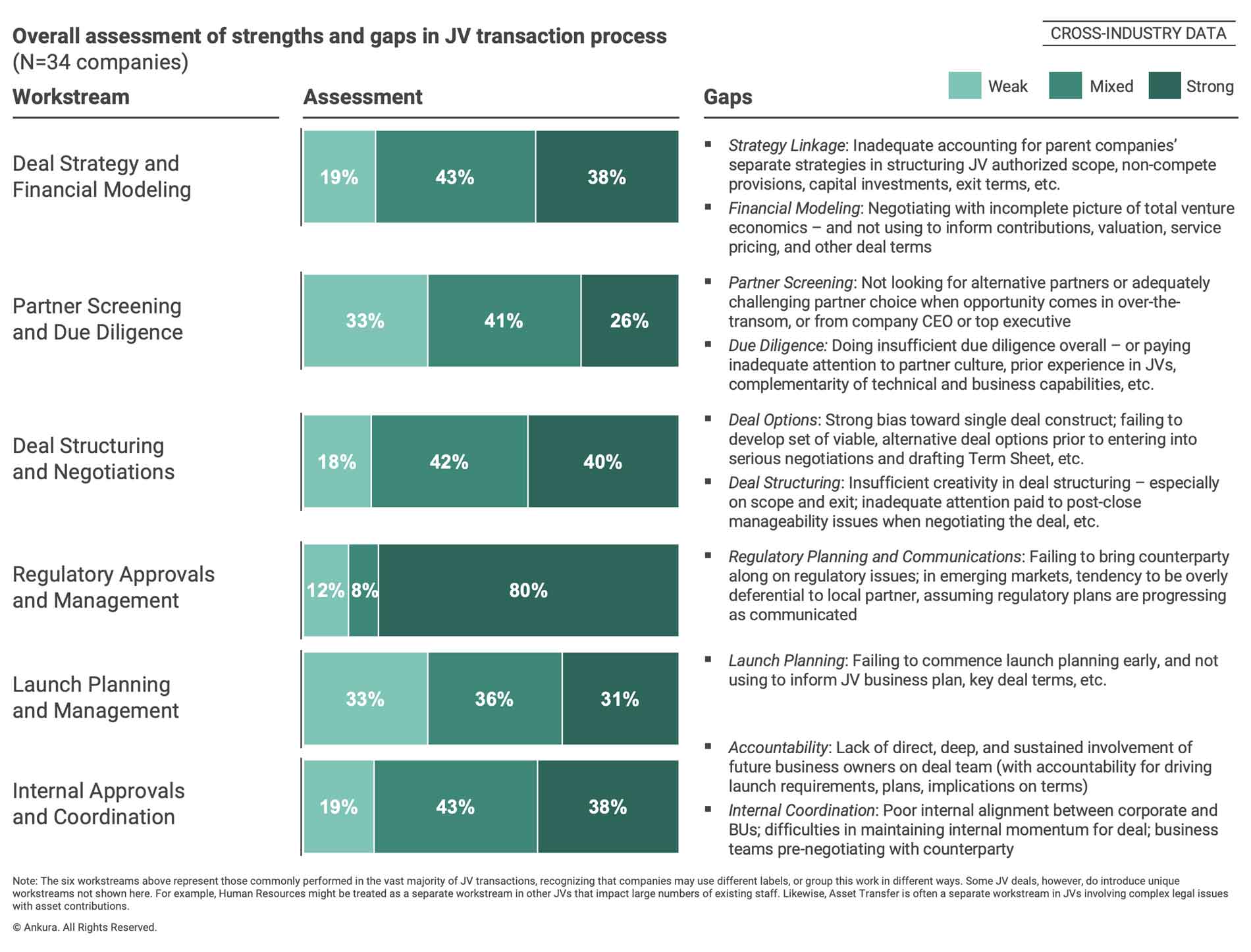 ---
For example, within the Deal Strategy and Financial Modeling workstream, companies struggle to adequately model "total venture economics." In a recent technology services JV transaction we advised on, the initial financial model developed by the team was focused on the JV's P&L and did not account for the counterparty's off-P&L financial flows, including charge backs, and service and license fees for supporting the venture's customers and systems. Once the model was expanded, it revealed that 85% of the total venture returns would be derived by the counterparty by Year 5, despite it only contributing 50% of the capital and assuming 50% of the risk.[1]Airbus Industrie took such complex, off-balance-sheet joint venture economics to a form of public art. When the aircraft maker was a four-partner joint venture, it depended on each of its owners to … Continue reading
Even when a prospective venture has few interdependencies with the parent companies, financial modeling can be challenging. A key gap: Failure to agree on underlying assumptions and second-level numbers within the model. In our experience, the parties in a joint venture negotiation will each build their own financial model, and then engage in a strained kabuki dance to agree on annual revenue or aggregate cost projections. Below that, however, there is no agreement – and from there, the thread of misalignment starts to be spun. For example, in a China market entry venture we advised on last year, the parties agreed on the JV's annual revenue projections, but held completely different views on growth rates and profitability for different product lines, and capital investment requirements. Getting to the needed agreement on the next level of the model took months and challenged each of the parties' strategic rationale for entering the business (since each placed different importance on different product lines within their broader corporate strategies). But this agreement was absolutely necessary to get a venture that could survive for more than a few years.
Stories of similar gaps can be told for each of the main workstreams.
Shortcomings are also common in certain joint venture contractual terms. For example, our work on JV governance and restructuring shows that governance, control, and management provisions tend to be too thin, providing limited guidance with regard to how the venture will be managed. This creates the severe risk of future misalignment and inefficiencies – which can lead to added costs, rising partner tensions, needed interventions from the shareholders to clarify governance, and shortened JV lifespans.
Similarly, within exit terms, companies entering business-style joint ventures tend to agree to standard buy-sell language, where either partner can offer to buy the counterparty's shares at a named price, but then must be willing to sell its own interests at that implied valuation.[2]This exit structure is far less common in asset-style JVs, such as those commonly found in oil and gas, metals and mining, and chemicals. This buy-sell language seems fair on the surface, but in truth, creates a highly advantageous position for the partner that is the "natural buyer" (i.e., the company that, for strategic or financial reasons, is far more likely to want to acquire full control of the business). This will lead the natural buyer to offer a below-market price for the counterparty's shares. If your company is the natural seller, a better approach is to agree to a pricing methodology in such situations.[3]For more information, please see Dispute Resolution – Jul 2013 (JVDX); and Joel Bleeke and David Ernst, "Is Your Strategic Alliance Really a Sale?" Harvard Business Review (January 1995).
Consequences
These gaps in venture dealmaking translate into lower close rates, higher transaction advisory fees, and a tendency for too many potential deals to result in "slow no's" – that is, negotiations lingering in a suspended state of non-answer. For example, a moment-in-time snapshot of one company's joint venture and partnership deal pipeline showed 80 potential transactions during the prior three years where the counterparties had been engaged in some form of serious negotiations or discussions. Of these, four had resulted in a closed deal, 22 were formally terminated short of a deal, and 54 remained in some suspended state of on-hold or in continuing discussions – half of which were still consuming some internal resources. This just does not happen with M&A.
More concerning, gaps in dealmaking lead to mixed performance of ventures that are consummated. A generation of research by us and others on joint venture performance can be summed-up as follows: While there are many extremely successful ventures around the world[4]Examples of some of the largest and most successful JVs in history include: Dow Corning, Samsung Corning, Airbus Industrie, CFM, Fuji Xerox, Verizon Wireless, GM-SAIC, Brunei Shell Petroleum, and … Continue reading, and certain types of ventures have high or improving success rates, JVs underperform as an asset class (Exhibit 2). For example, 49% of cross-border JVs fail to meet the financial and strategic expectations of each parent, while 91% of companies believe that value creation in JVs could be better. U.S. Department of Commerce data shows that ROA levels in international investments are 2.0% lower in joint ventures than for wholly-owned or operated businesses. Adding texture to these findings, other research shows that JVs in developing countries have a far higher failure rate than those in developed markets, where performance is mediocre at best. Perhaps knowing all this, stock markets react negatively to roughly half of JV announcements.
---
Exhibit 2: JV Performance At-a-Glance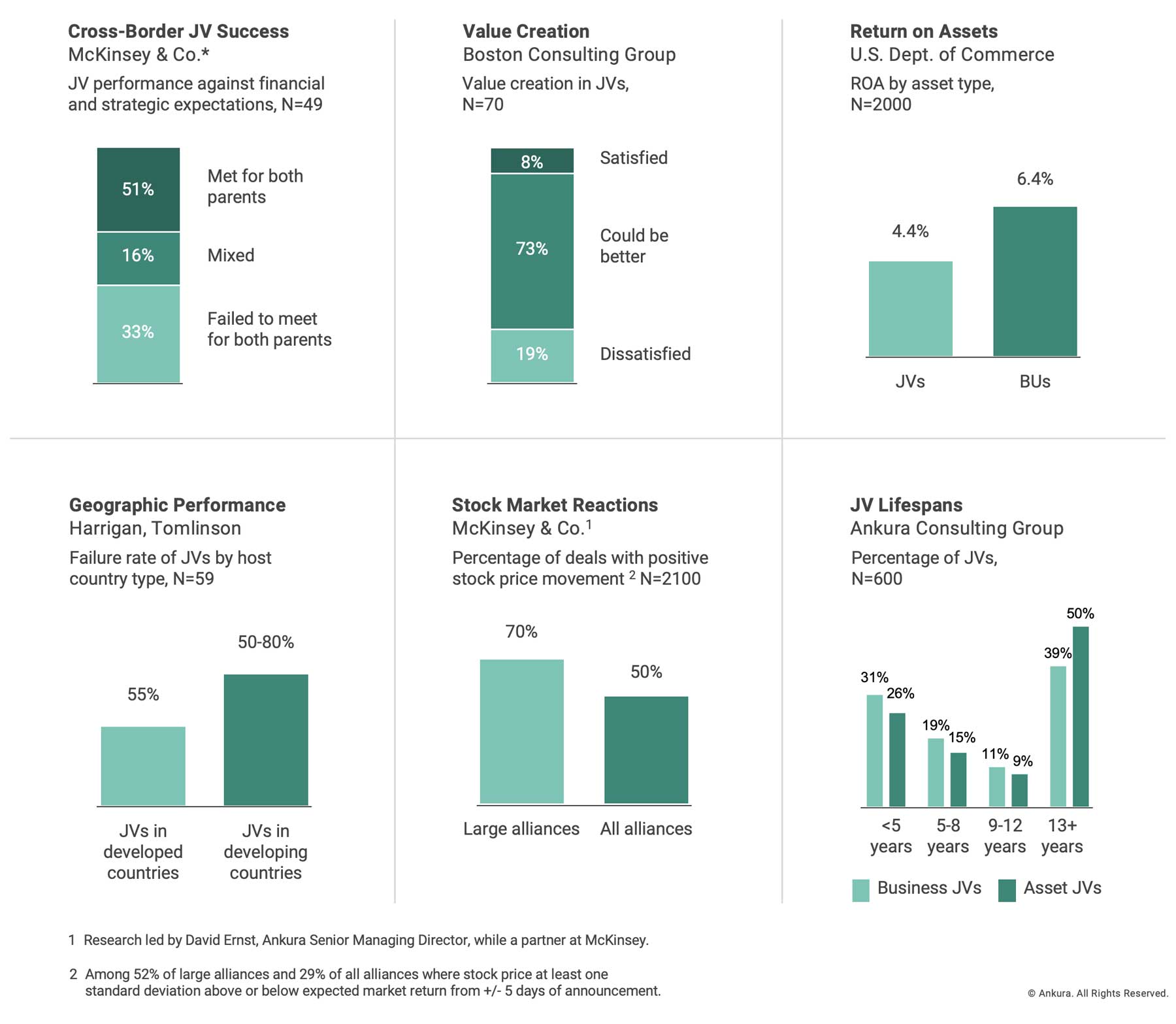 ---
There are many explanations for this seemingly bleak performance picture. And while our analysis has shown that post-close governance and other non-deal factors materially impact long-term venture performance and shareholder returns, flaws in dealmaking are also a major contributor to suboptimal outcomes.[5]For an overview of JV governance issues, please see CalPERS Joint Venture Governance Guidelines (co-authored with Ankura); The Right Stuff – Building a Better JV Board – Aug 2012 (JVX); James … Continue reading
Standards of Excellence
To help companies address gaps in dealmaking and improve venture performance, Ankura has developed a set of Standards for JV Dealmaking Excellence. These standards fall into different domains: Some relate to specific deal terms (e.g., exit, governance, assumption of liabilities by a non-controlling partner), while others relate to the deal process and related analytics. While most standards are aimed at individual deals, some standards establish corporate-level processes and best practices, including putting in place a corporate stage-gate review process that reflects the unique needs and risks of JV transactions (and does not merely replicate the M&A stage-gate review).
Below, we illustrate three of the 20 standards where gaps are among the most widespread. An overview of the 17 other process-related standards – and a compendium illustrating each – are available by contacting Ankura.
Standard 1. Modeling Total Venture Economics
Summary of issues: Joint ventures are complex businesses to model. In many cases, this is largely due to the diverse financial flows occurring outside the venture P&L (e.g., parent company income from multiple licenses and service fees; parent company cost, revenue, or strategic synergies with other businesses and assets) that can be hard to map but are critical to understanding the business.[6]Other modeling challenges include: (i) getting accurate financial information from the counterparty, and (ii) dynamically linking the financial model to negotiations occurring separately and in … Continue reading
What the Ankura standard says: "The Company develops a financial model of the proposed JV that includes an integrated picture of total venture economics for the Company and the Counterparty." [7]For additional perspectives on JV economics, please see Assessing Total Venture Economics – Nov 2008 (JVX); Taking Valuation Issues Off the Table – Jun 2012 (JVX); and Creative Ownership and … Continue reading
What it looks like in a company: To understand what it takes to meet this standard, consider a multi-billion dollar alternative energy venture between four partners formed to develop and commercialize a radical new technology. We helped the deal team of one party identify all the financial flows of each partner, estimate the costs and revenues associated with each of these financial streams, and then evaluate how the integrated economics for each partner would play out over time (Exhibit 3).
This allowed the deal team to forecast the cumulative free cash flow of each partner over 15 years – analysis that showed that Partner 3 would likely fall into a severely negative cash flow position in years 6 to 8. Because Partner 3 was the main technology supplier to the venture, and did not have a strong balance sheet, this insight raised legitimate concerns about their willingness to remain in the venture over the long term – and thus the viability of the venture itself. This understanding of total venture economics led the company to fundamentally reset the proposed financial terms of the deal, including reducing future technology licensing and service fees paid to Partner 3 in exchange for co-funding of certain early-year technology development costs.[8]Consider a different example where four healthcare companies participated in a joint venture that offered technology solutions to improve processing of customer claims. While the JV saved money for … Continue reading
---
Exhibit 3: Modeling Total Venture Economics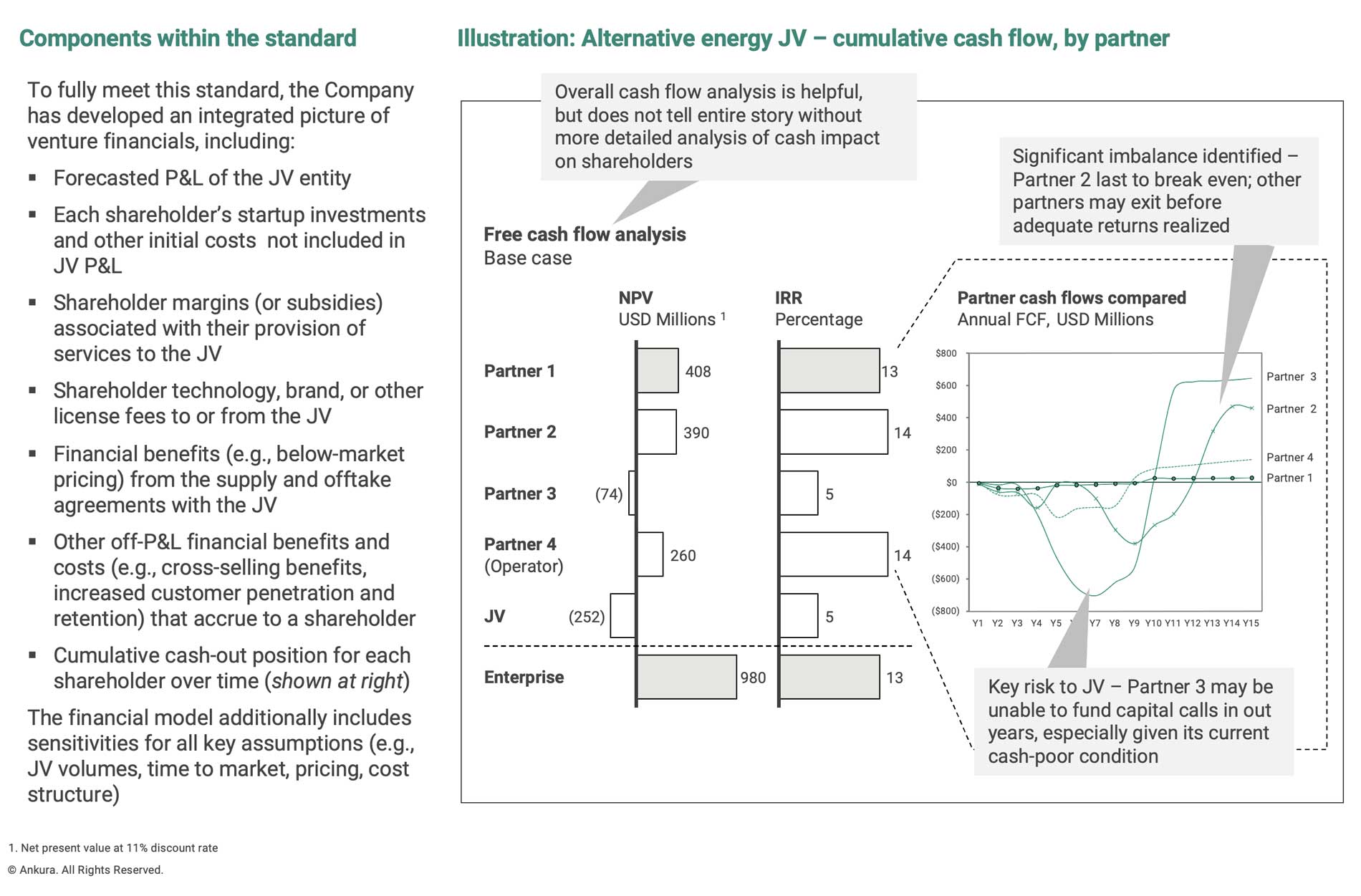 ---
Standard 2. Screening Partners for Compatibility
Summary of issues: Among the main gaps in partner screening and due diligence is insufficient attention to the partner's culture and compatibility. While cultural fit is important in acquisitions, it takes on even greater importance in joint ventures, where the counterparty will remain a separate entity – and its management style, decision-making approach, and organizational contours will have sustained influence over the venture and working relationship.
What the Ankura standard says: "The Company conducts strategic partner due diligence – including evaluating the Counterparty's corporate strategy, investment and risk appetite, track-record with other joint ventures, corporate culture, and potential misalignments and incompatibilities with the Company – and uses this to inform the deal negotiations, structure, and terms." [9]For additional information on partner screening and due diligence, please see Succeeding in Cross-Cultural Joint Ventures – Oct 2010 (JVX) and Due Diligence in JVs – Apr 2015 (JVX) (forthcoming). … Continue reading
What it looks like in a company: One major European company was considering entering the Indian market through a JV with a large family-owned business. Working with us, it conducted a set of interviews with advisors, industry experts, and former employees of the Indian company as part of cultural due diligence. Drawing on those discussions, and their own interactions with the counterparty's management, the team mapped key aspects of the partner's culture (Exhibit 4).
---
Exhibit 4: Conducting Strategic Partner Due Diligence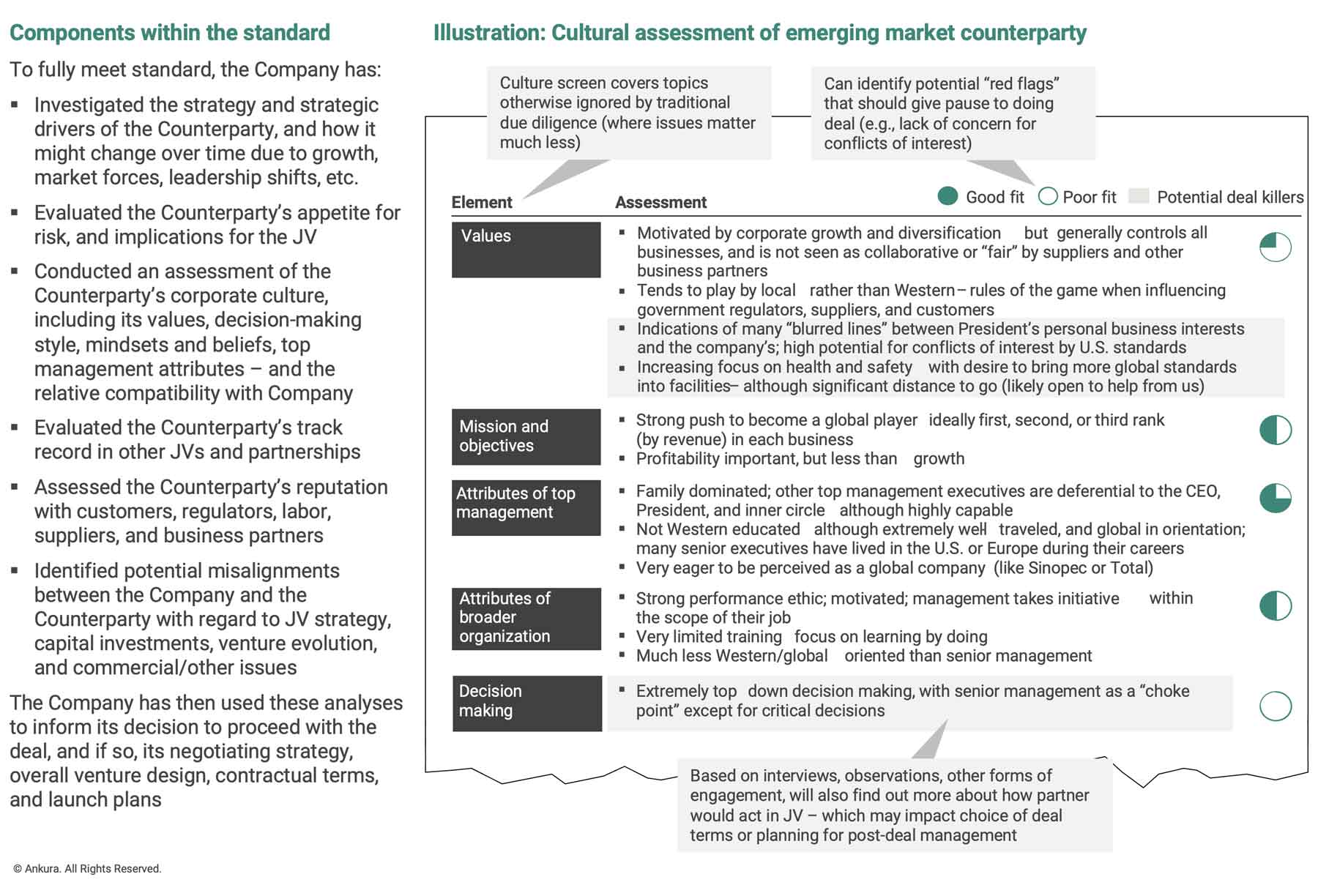 ---
This analysis showed some good things about the counterparty and revealed other attributes that were different – but likely could be overcome to form a strong partnership. But is also unearthed some landmines. For instance, in the course of the discovery process, it became clear that the counterparty had never had a successful and enduring collaborative relationship, the company's style was extremely hierarchical, and the company had a history of acquiring its partners or exiting its JVs after a few years. Moreover, the main relationship was with the topmost executives who, while supportive, were unlikely to give a JV sufficient time after the deal, since the business was relatively small and noncore for the Indian partner. Those findings raised concerns about whether the partner would rigorously assess large year-one capital investment decisions.
The European company subsequently selected another partner with similar business capabilities, but a much better fit and a history of successful partnering.
In many ways, the company was lucky: It could find another partner. In other situations, there is only one available partner – and this type of analysis might lead you to scrap the opportunity altogether, or to get a lot more creative in structuring scope, ownership, governance, control, organization, and exit provisions to manage these issues.
Standard 3. Generating Deal Options
Summary of issues: Companies often struggle in the creative front-end of deal structuring and negotiations. Specifically, Ankura has found that companies often lock-in too early on one deal construct – and do not creatively mix different ways to structure venture scope, ownership, contributions, control, and other terms to generate a set of alternative deal options that might yield higher returns, lower risks, or greater likelihood of reaching deal close.[10]For an overview of JV negotiating and structuring, please see JV Negotiations – Introduction to the JV Deal Negotiations and Structuring Process (Guide); Structuring a JV – Contributions, … Continue reading
What the Ankura standard says: "The Company develops a range of viable, alternative deal constructs for the potential transaction – and does so prior to entering into negotiations with the Counterparty. These deal options are defined clearly, are used to expand the team's thinking and challenge its biases, and are assessed against value, feasibility, manageability, and other criteria."[11]For additional information on generating deal options, please see Developing JV Deal Options – Dec 2011 (JVX) and Developing JV Deal Options (Practitioner Guide).
What it looks like in a company: Consider a U.S. industrial company looking at a potential collaboration with a Japanese counterparty. Both companies had strong regional footprints and complementary product offerings – and both were experiencing competitive challenges associated with a lack of global scale and scope. The head of the U.S. firm's business unit wanted to pursue a 60:40 joint venture with the Japanese company centered on Latin America, creating a joint sales and service organization in the region, and over time, investing in manufacturing and research facilities there. The company also saw the possibility for broader collaboration – for instance, consolidating other global operations, cross-selling and co-branding in non-competing segments, and leveraging complementary capabilities such as each other's regional sales and distribution infrastructure.
With these possibilities in mind – and prior to entering into any serious discussions with the counterparty – the U.S. company's deal team developed four high-level deal constructs (Exhibit 5). These options implied very different scopes and structures, but each was consistent with the strategic and financial rationale of the two companies. For each option, the team developed a one-page summary of key terms, and evaluated each against key criteria, including long-term value, stability, control over IP and customer relationships, pricing and product scope, and other factors. This allowed the executive team to have an informed discussion with its investment committee during a Gate 1 Review, to approach the counterparty with a preferred option, and to understand what alternative constructs might or might not be on the table for consideration. This early, creative, and expansive thinking about deal options led to the formation of a JV that was very different from the much narrower deal initially proposed.
---
Exhibit 5: Generating Deal Options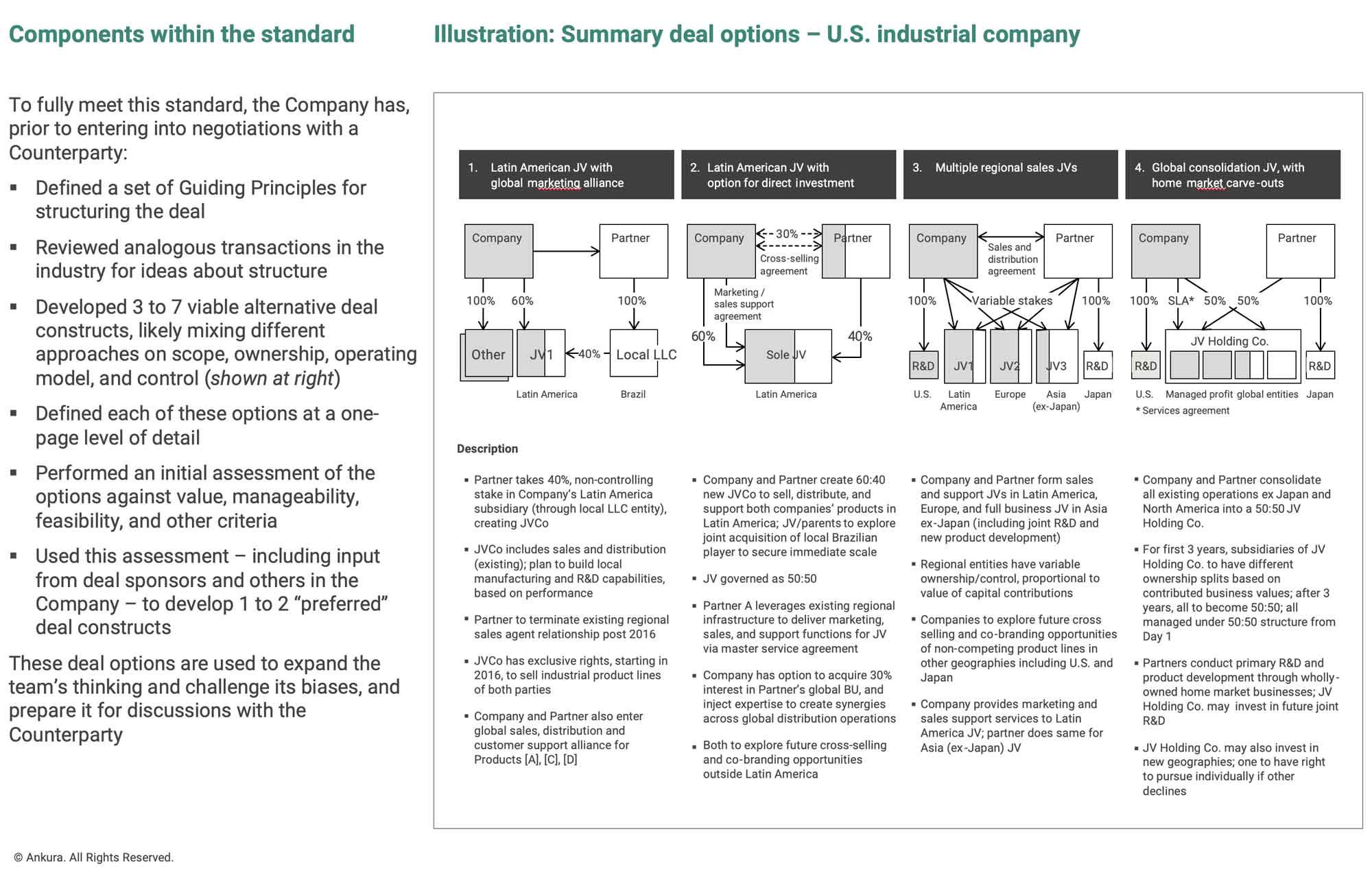 ---
For companies to consistently succeed at joint venture dealmaking, they will need creativity, rigor, and some old-fashioned hard work – and a map for what good looks like. We believe that our set of Standards for JV Dealmaking Excellence provides such a map.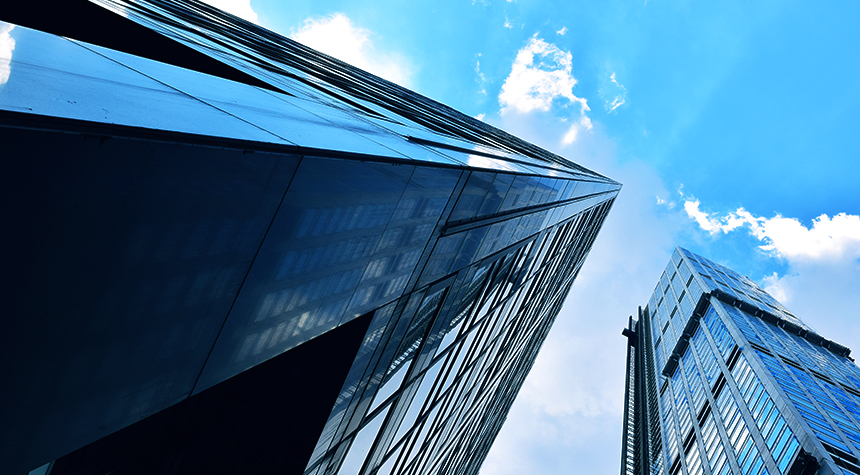 Print Article