Print Article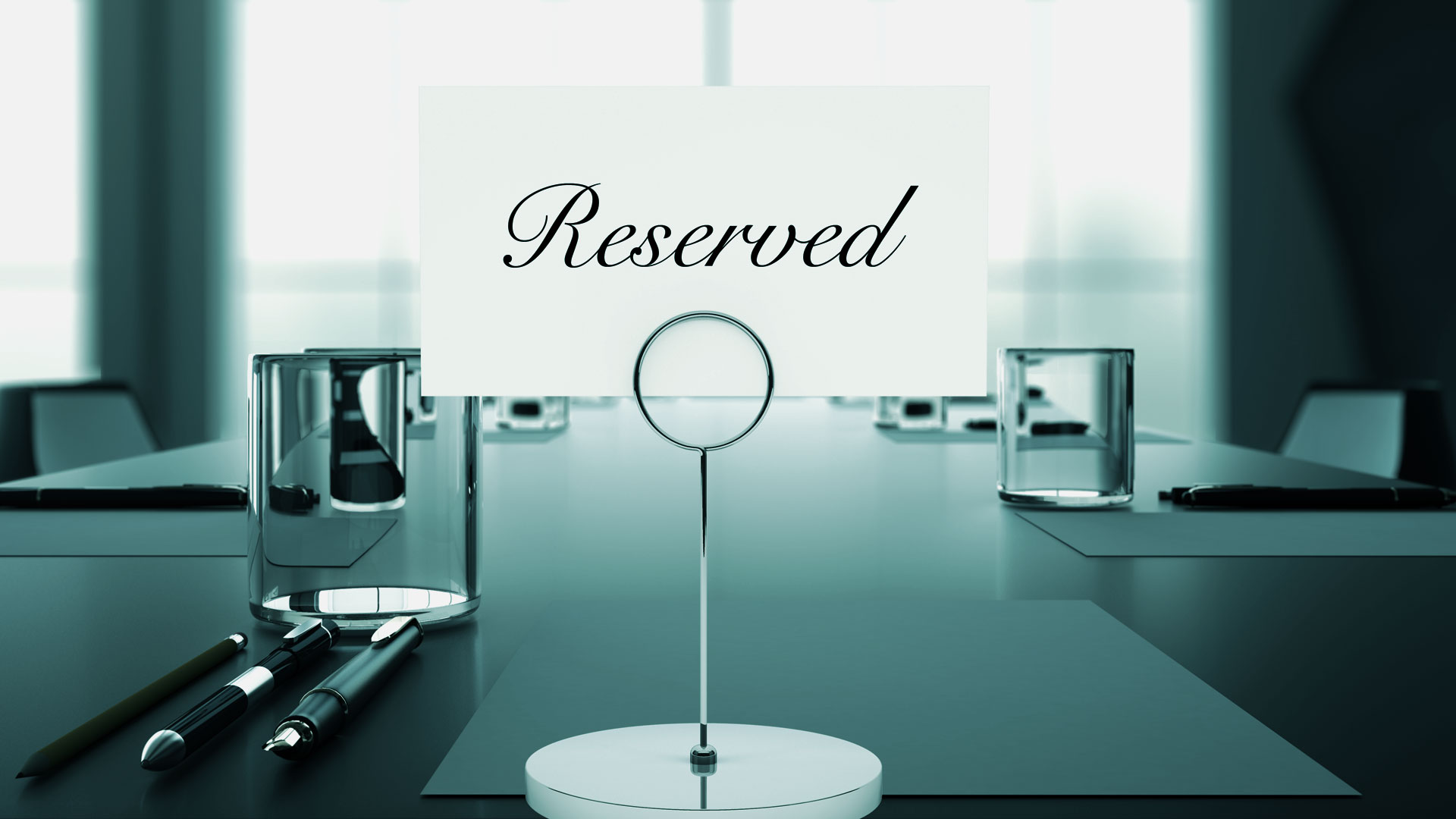 WHEN DRAFTING JOINT VENTURE LEGAL AGREEMENTS, the parties must decide whether any co-venturer will have the direct or indirect right to fill key positions – and if so, for how long. Such decisions carry profound implications on the success of the venture, as well as a partner's visibility into and control over the business. Indeed, at times negotiating these appointment rights in a joint venture can feel like selecting jurors in a high-profile court case – a highly negotiated affair among lawyers from all sides.
To understand more about how management team appointments work in JVs, we recently analyzed the terms in 120 JV legal agreements and other documents to see what they had to say. These JVs were selected to create a representative sample set of joint ventures from across industries, geographies, and venture types, with a focus on more collaborative and jointly-controlled ventures, and as such excluded JVs operated as units of one parent company (e.g., 80:20 JVs or unincorporated partner-operated JVs in upstream petroleum or mining).[1]The sample set represents 12 different industries, each no more than 10% of the total, and all major geographies including the Americas (40%); Europe, Middle East, and Africa (22%); Asia-Pacific … Continue reading
In summary, what we found was this: a wide range of models and terms are available to companies, but drafters bring a potentially concerning predilection to complexity and long-term restrictions on what should be (with a few caveats) a best-person-for-the-job approach.
OVERALL MODELS
Our analysis shows five models for addressing management team appointments that range from "true open" to "fixed slots" (Exhibit 1).
True Open
Joint venture agreements with a True Open approach for filling positions contain no contractual rights or regulatory restrictions that prevent candidates from being open-sourced from any origin – from parent companies, third parties, or within the venture. This model accounts for one third of ventures in our dataset and includes the likes of Chevron Phillips Chemical, United Launch Alliance, and S&P Dow Jones Indices. The CP Chemical agreement memorializes the model in its simplest form: "Officers shall be appointed by the Board of Directors." The agreement of a global supply chain management JV uses a slightly fuller expression:
"The replacement or renewal of any executive shall be decided by the Board upon the Nomination and Remuneration Committee's (NRC) recommendation. If the CEO becomes vacant for any reason, the NRC shall solicit and examine applications by candidates, which may include a person who holds or has previously held the office of CEO, and shall come to a recommendation on the best person for the job."
---
Exhibit 1: JV Management Appointment — Summary of Models
Summary Description, Examples, and Frequency of the Models (N = 120)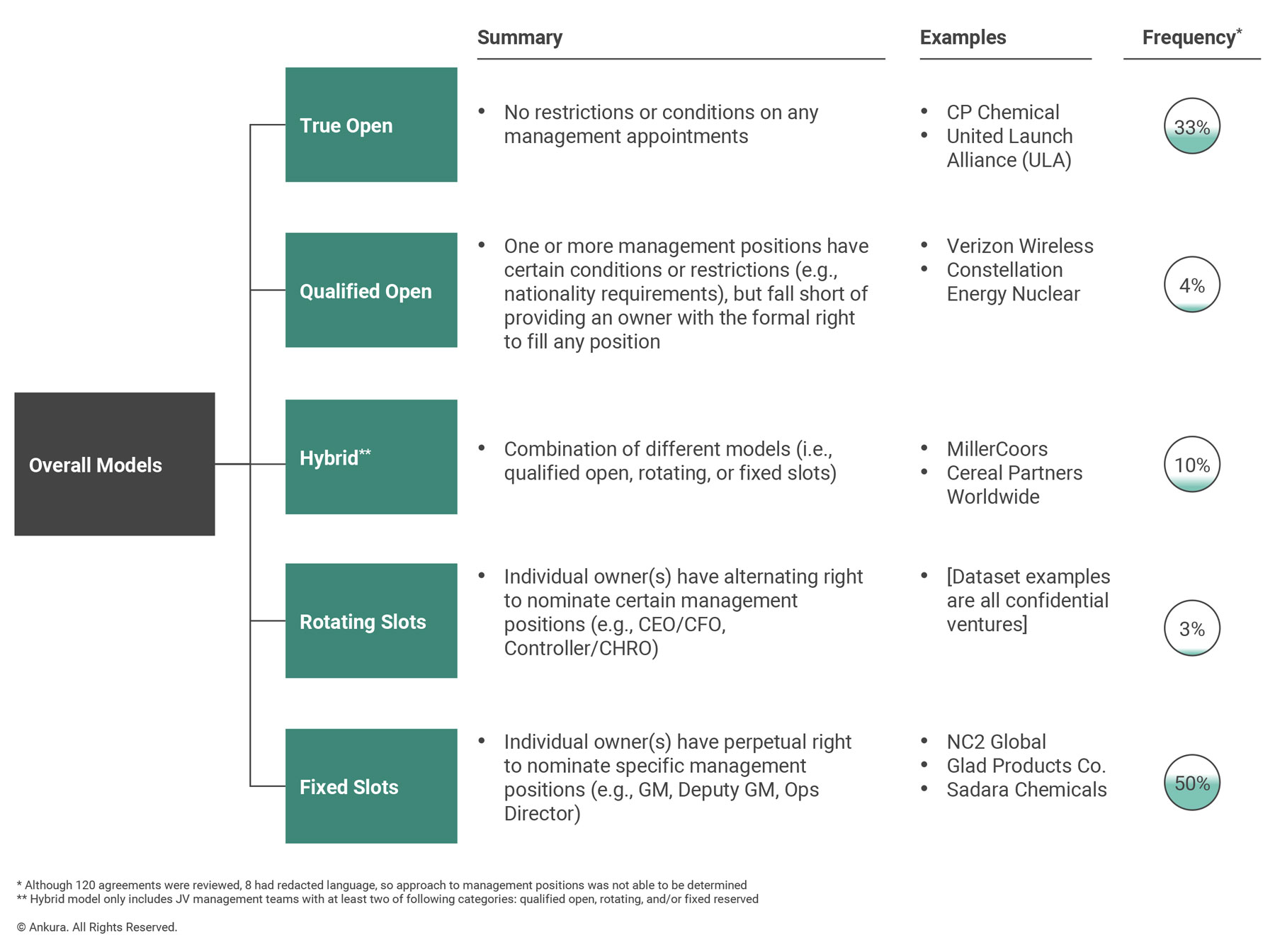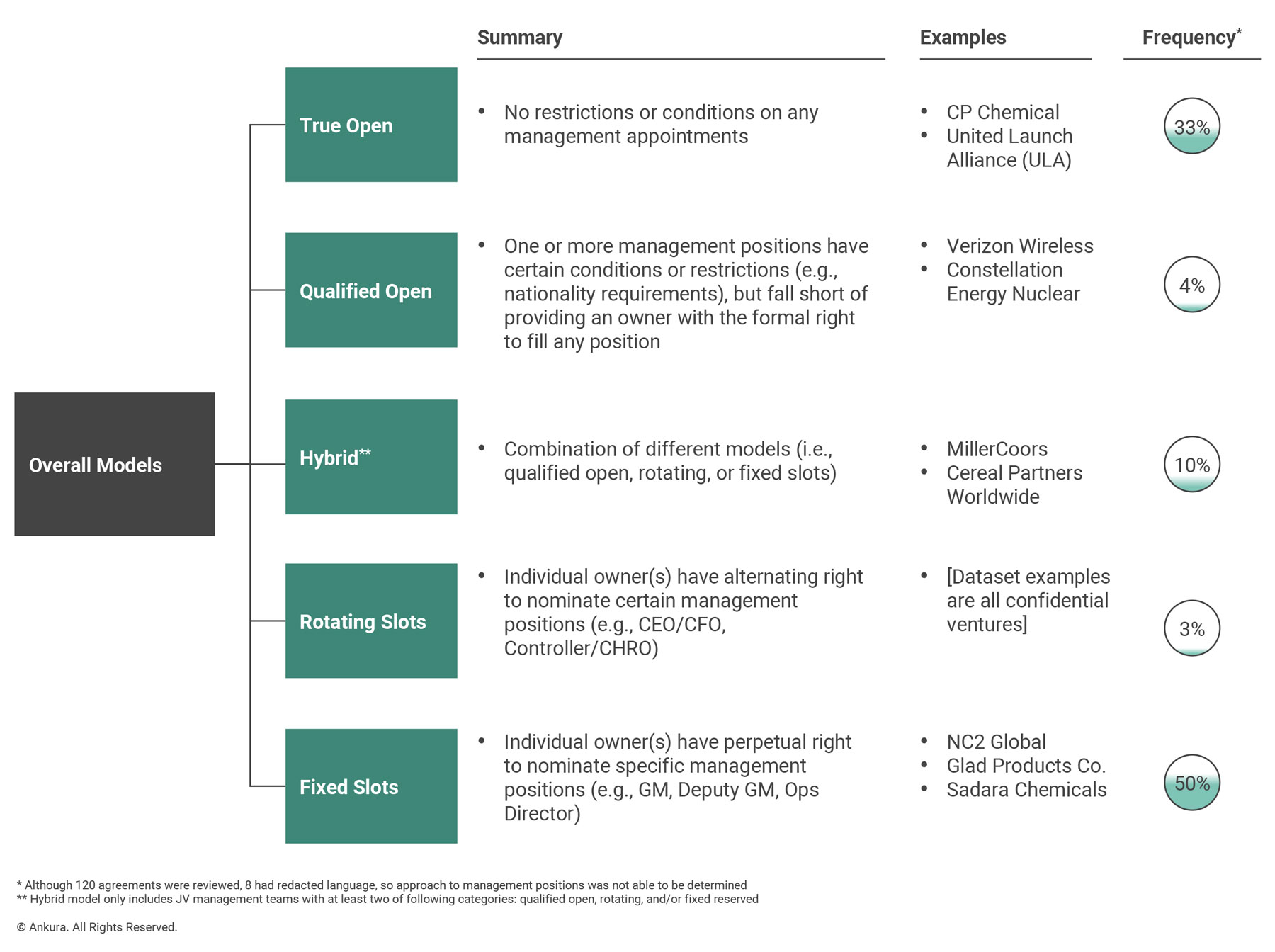 ---
Qualified Open
The Qualified Open model is like True Open in that no owner has a contractual right to nominate specific management positions, but one or more positions are subject to certain pre-conditions or restrictions. These might include nationality requirements, as we observed in a nuclear joint venture in the U.S., where the agreements stipulate that the JV CEO and Chief Nuclear Officer both be U.S. Citizens, and not dual nationals or foreign citizens. Or the agreements might require that certain positions be reserved for a class of owners. For instance, in a multi-owner oil and gas venture in Central Asia, the agreements require for the first fifteen years that the MD position is filled by a secondee from one of the several international partners. Similarly, the Qualified Open model might include a more general right for a partner to have some representation on the management team, without specifying the positions. In Verizon Wireless, a JV between Verizon and Vodafone, the agreements gave minority partner Vodafone the right to appoint one floating position in an otherwise True Open management team:
"The Board shall have the right, in its sole and absolute discretion, to appoint, remove (with or without cause) and replace the Officers of the Company and to define the duties and responsibilities of the Officers; provided, however, that for so long as the Vodafone Group holds, directly or through one or more Wholly-Owned Subsidiaries, a Partnership Interest of at least 20%, the Representatives designated by the Vodafone Designated Partner shall have the right to appoint one Significant Officer, with the Board of Representatives determining which of the Significant Officer positions such appointee by the Vodafone Designated Partner from time to time shall hold."
The Qualified Open model also includes agreements where no owner has reserved positions but where management appointments approval thresholds are explicitly set at levels such that a majority partner could approve nominees, including those that were self-suggested.[2]Other terms found in the Qualified Open model include agreements which: (1) name and appoint initial incumbent(s) to key management position(s) that, after initial appointment, revert to "true … Continue reading
Hybrid
The Hybrid model is how it sounds: a combination of two or more other models, accounting for 10% of the JVs in our dataset. It typically involves some true open positions, fixed slots, and one or more rotating and/or qualified position. To illustrate, consider this jointly controlled Middle Eastern oil and gas JV between an international oil company and a local state-owned enterprise (Exhibit 2). Of the JV's ten management team positions, two are rotating slots (CEO and COO) and two are fixed slots (Chief Administrative Officer and HR Manager). Parent A appoints both the CEO and COO for the first five years, then Parent B appoints those two positions in thereafter. Parent B has the right to appoint the CAM and HRM positions from day one.
---
Exhibit 2: Hybrid Model Examples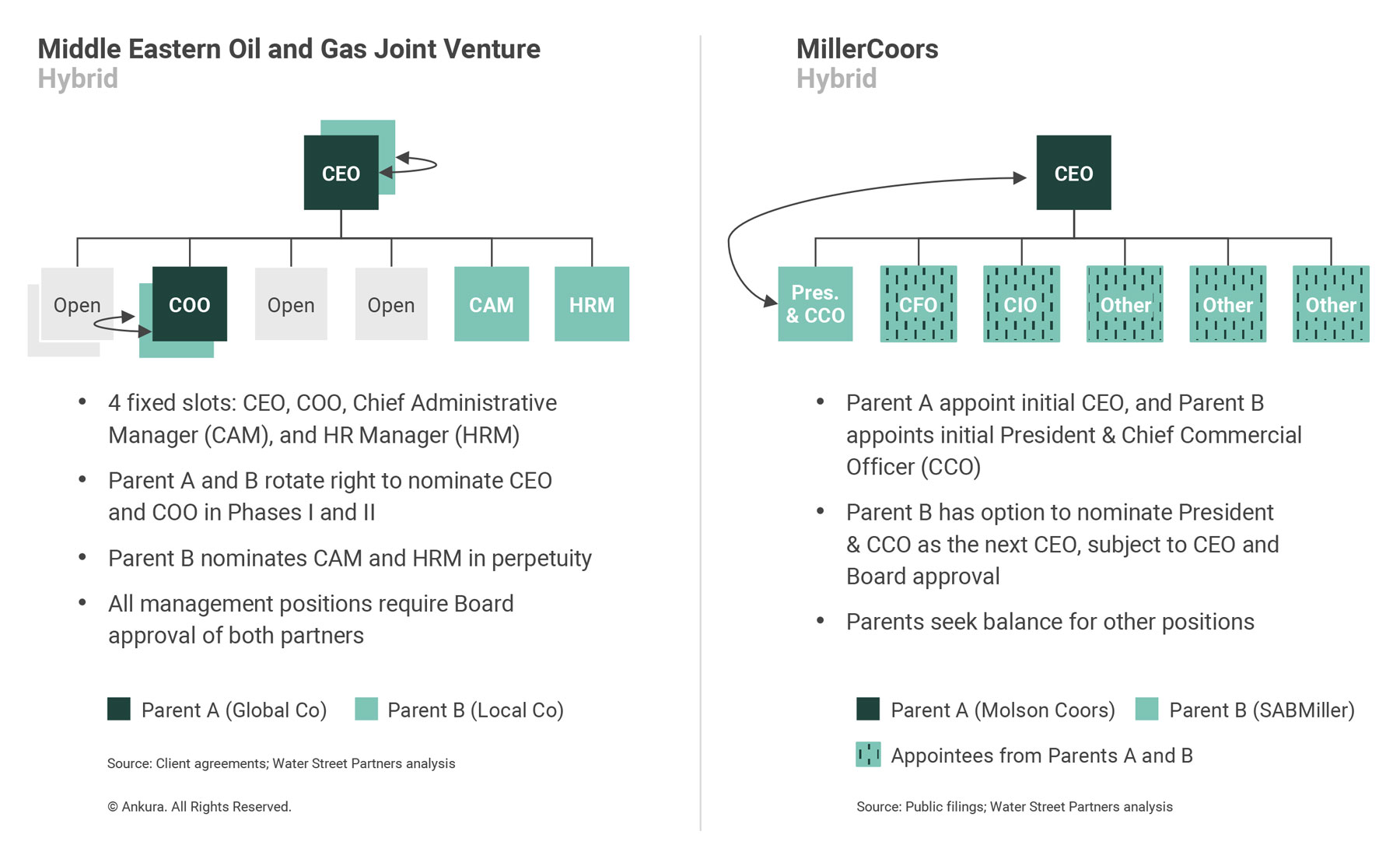 ---
As another example, MillerCoors was a 42:58 consolidation JV (with 50:50 voting interest) of Molson Coors and SABMiller that became a top three US beer brewer and distributor prior to SABMiller's 2016 Exit. The agreements provide Molson Coors with the initial right to appoint the first CEO, while providing SABMiller with the right to select the first President & Chief Commercial Officer. These rights then rotate, with SABMiller having the right to nominate the existing President & CCO as the second CEO, and Molson Coors has the right to nominate the second President & CCO. This rotational pattern continues in perpetuity and extends to all future CEOs and President & CCOs. The rest of MillerCoors management team is filled by both parent companies with a balanced approach:
"The Executive Committee will comprise at least the following: the CEO, the President and Chief Commercial Officer ("President-CCO"), the Chief Financial Officer ("CFO"); the Chief Integration Officer ("CIO"), and the heads of the (i) sales and distribution, (ii) marketing, (iii) strategy, (iv) production, (v) supply chain and procurement, (vi) legal, (vii) HR and (viii) communications functions within the Joint Venture. The Executive Committee shall be selected from existing members of the Miller and Coors Brewing Company management teams except in exceptional circumstances, with due regard to appropriate balancing of the candidates from the two management teams. The first Executive Committee will be selected based on recommendations from the CEO-designate and a working team which will include representatives from the HR functions of both SABMiller and Molson Coors. If there is a lack of consensus between the CEO of SABMiller and the Vice Chairman of Molson Coors on the identity of the CIO or the CFO, Molson Coors shall be entitled to select the CIO and SABMiller shall be entitled to select the CFO.
In certain instances, the hybrid model can become quite complex. Consider a notional structure, similar in concept to a recent confidential client situation. Under this notional structure, 11 of the 15 key positions have some restrictions during the first five years, whether that is being reserved for two local partners, reserved for two of several international partners, or simply reserved for a secondee from any partner (Exhibit 3). Additionally, four of the fixed slots are also Qualified Open in that the positions are only open to local national citizens or dual citizens after 2025. Another four slots rotate to other partners at different future periods. This kind of complexity in management team appointments is typically due to the venture's large size, regulatory restrictions, state-owned company participation, and/or the venture's heavy reliance on parent-provided services.
---
Exhibit 3: Hybrid Model — Disguised Client Example
Management positions appointment rights for 2015–20 time period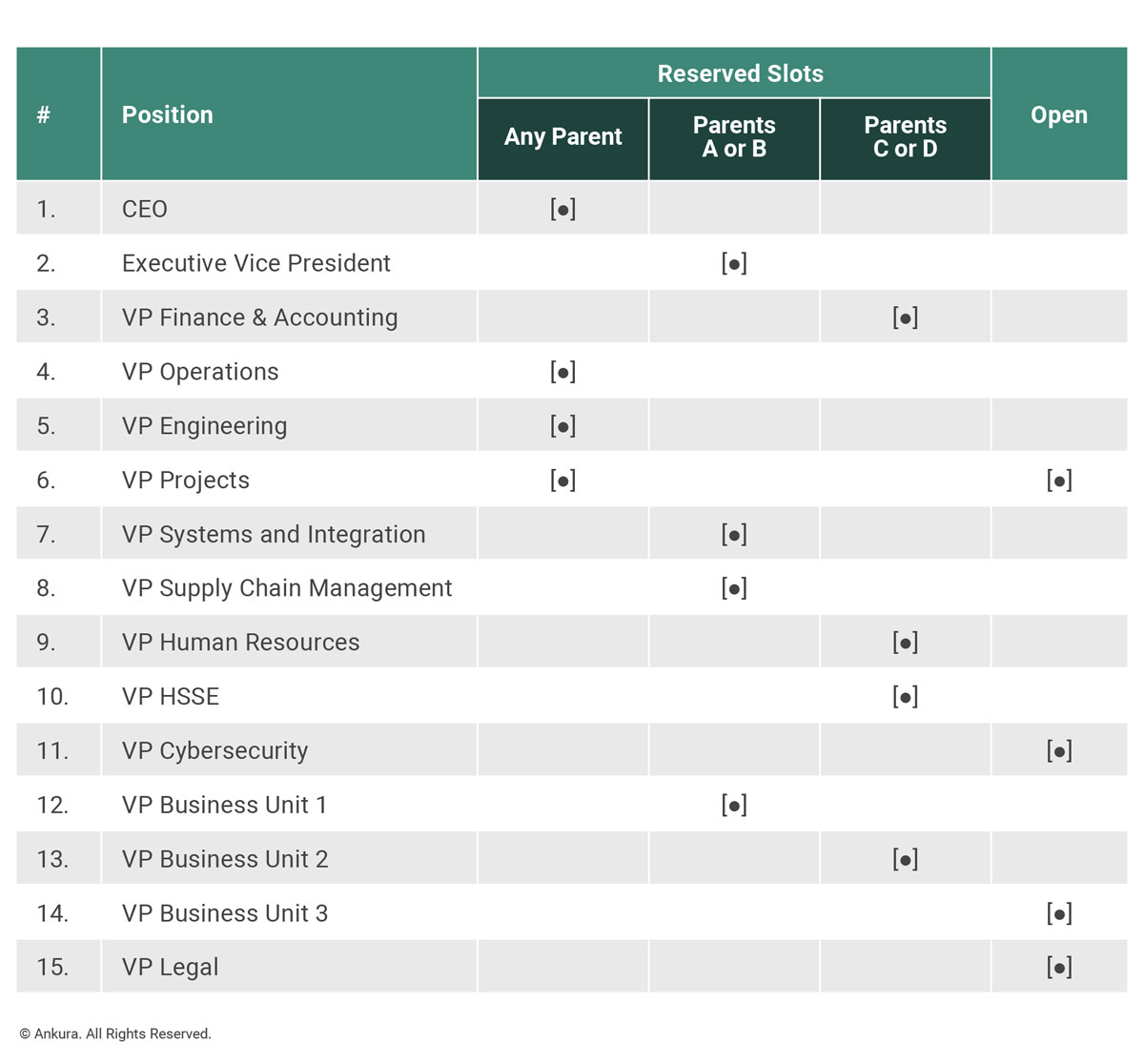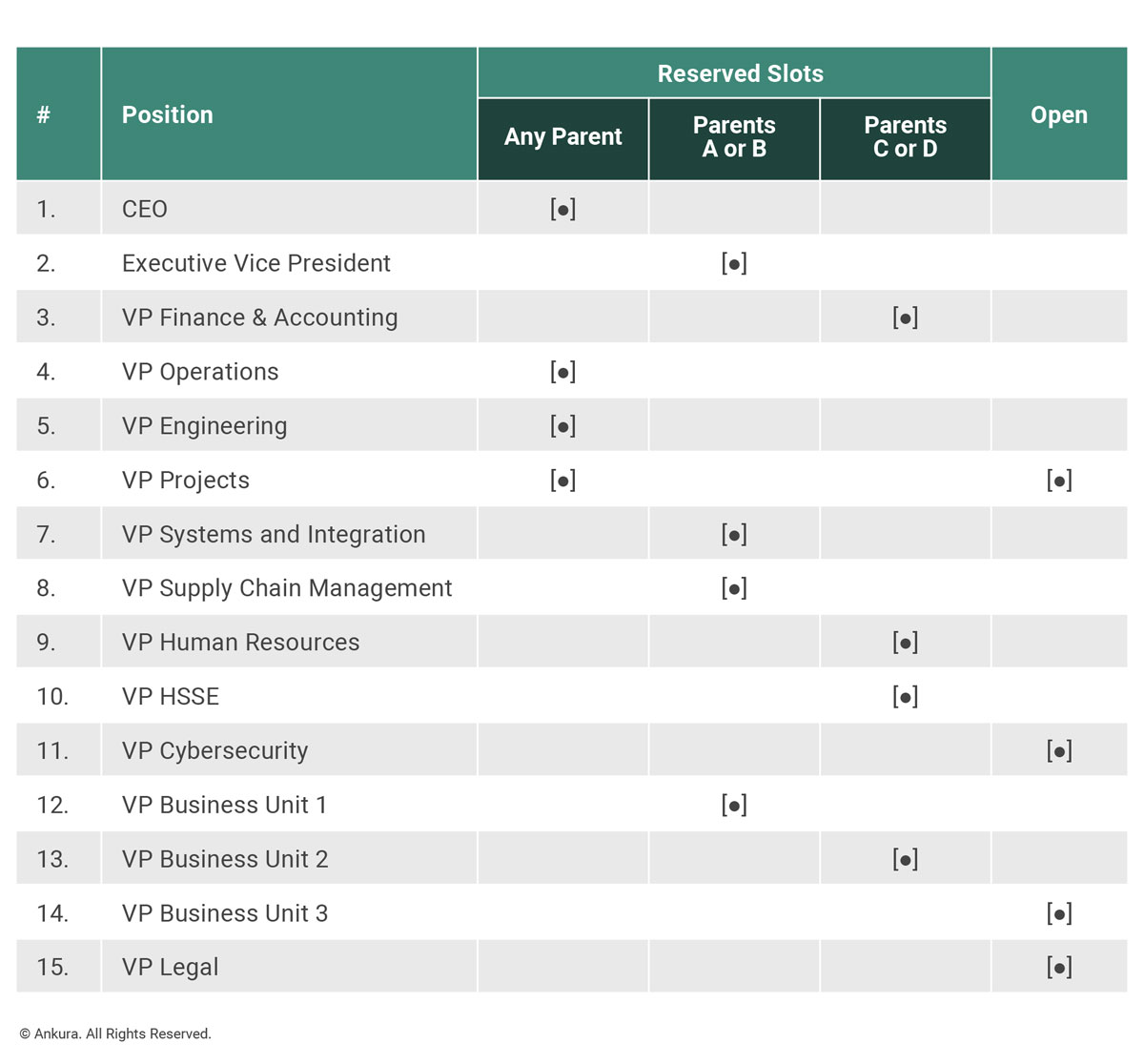 ---
Rotating Slots
The Rotating Slots model involves individual parent companies having an alternating right to nominate key positions. The most common structures are when Parent A appoints the CEO and Parent B appoints the successor, or when the right to nominate two key positions, such as the CEO and CFO, rotate between the parties, say, every three years. Such structures are fairly common in 50:50 style "partnerships of equals". Consider two confidential JVs: One in the aerospace and defense industry and one in the global logistics industry (Exhibit 4) The Aerospace and Defense JV has two sets of two rotating slots – the CEO/CFO and the two Business Unit Heads. Parent A has the right to nominate the CEO and BU Head Europe while Parent B has the right to nominate the CFO and BU Head North America. The rights rotate after a fixed 3-year team, in perpetuity.
A different illustration of the model is a three-party global logistics joint venture, where each parent company appoints one of the three members of the leadership team (CEO, VP-Sales & Marketing, and VP-Operations) and the three positions simultaneously rotate every three years. Since entering into the venture in the 1990s, the parent companies have not always replaced individuals at the three-year mark; on some occasions, they simply have had their secondees[3]For more on secondees see James Bamford, "JV Secondee Guidelines: Getting a Grip on Secondees" change roles, creating a "rotating offices and business cards" among the top three leaders.
---
Exhibit 4: Rotating Slots Model Examples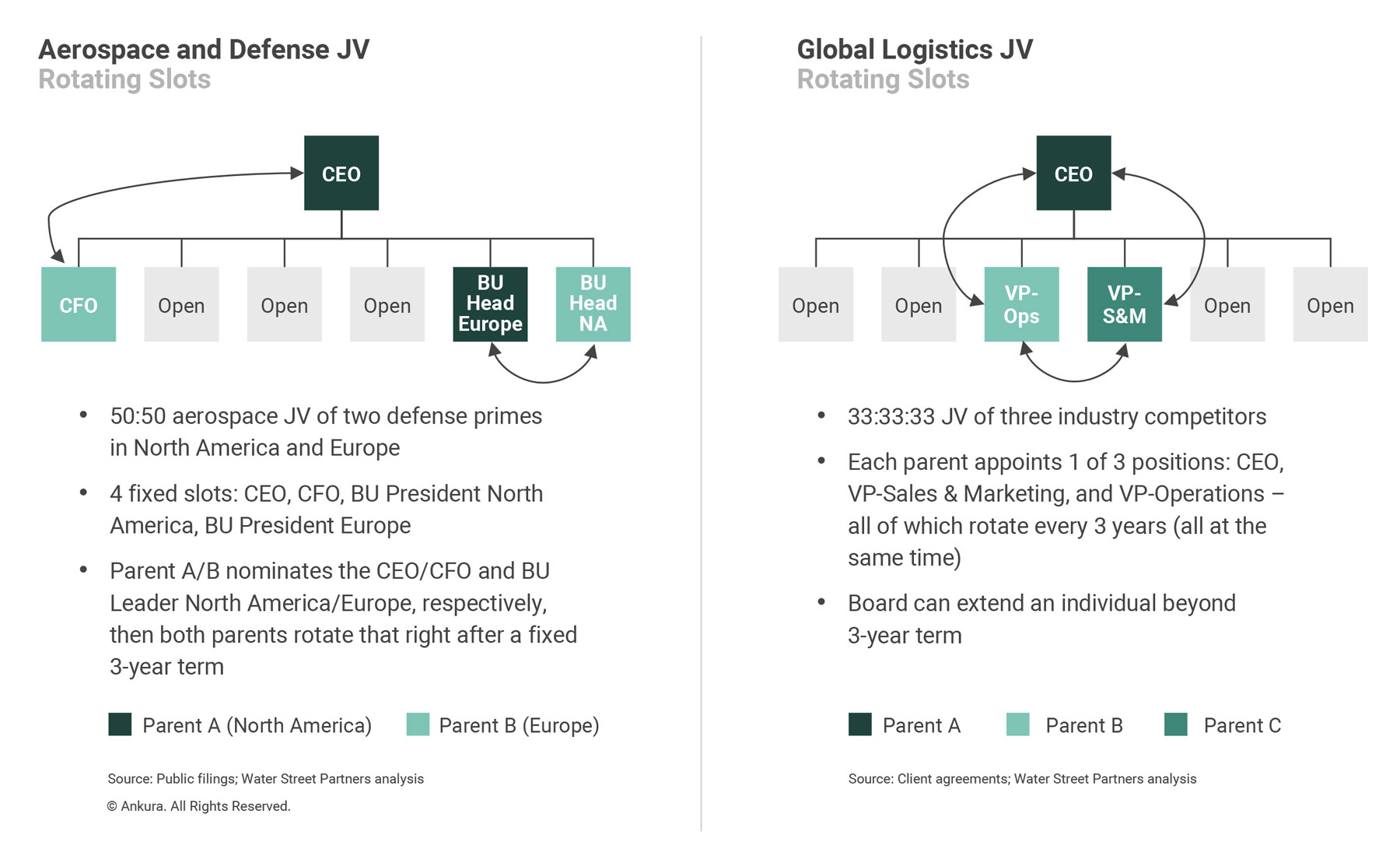 ---
The Rotating Slots model is as rare as the Qualified Open model (comprising 3% and 4% of ventures analyzed, respectively), though both also feature in many complex Hybrid models.
That leaves us with the fifth and most prevalent model – the Fixed Slots model.
FIXED SLOTS – THE PREDOMINANT MODEL
In a Fixed Slots model, the agreements provide individual parent companies with the exclusive right to nominate specific management positions in the joint venture. It's the primary model in 50% of ventures in our dataset, and appears in another 17% of JVs that are Hybrid or use Rotating Slots, making it the most prevalent of the five models. The data on fixed slots breaks down as follows: 37% of JVs have zero slots, 33% have one or two slots, 18% have three or four slots, and 12% had six or more slots (Exhibit 5). For companies with six or more fixed slots, the number of fixed slots tends to be the entire management team. These 100%-fixed slot models occur across industries and geographies, but occur most frequently in the defense or natural resource sectors and in emerging markets.
---
Exhibit 5: JV Management Team Number of Fixed Slots (N=120)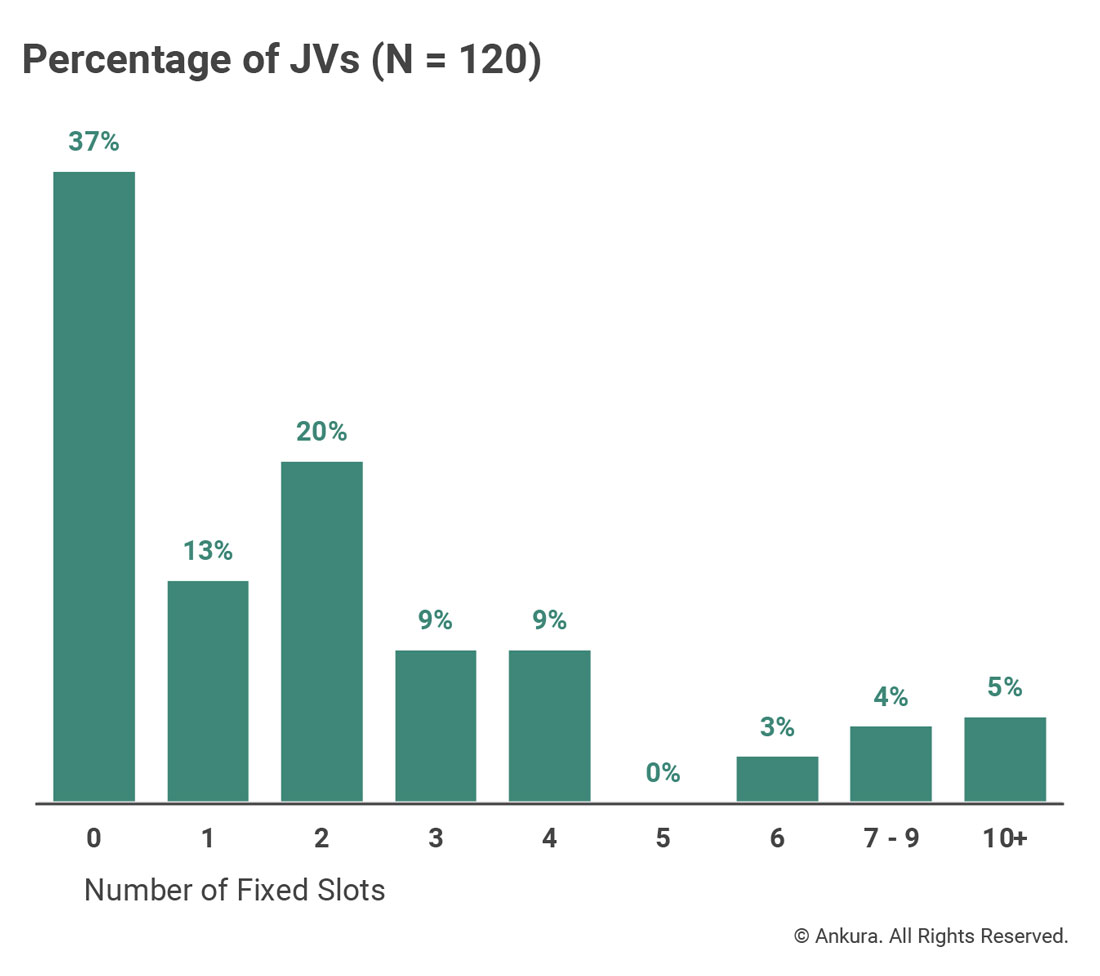 ---
Reserved slots are almost always for key leadership positions, such as CEO, CFO, or COO. Our dataset shows that fully 60% of JV CEOs (inclusive of Managing Directors, Presidents, and GMs) are a fixed slot, compared to 34% of JV CFOs, and 28% of JV COOs (Exhibit 6). Less common fixed slot positions, by rank of prominence, are Chief Technology Officers, Chief HR Officers, and General Counsels. Not surprisingly, the seniority of the position is highly correlated with its likelihood of being a fixed slot.
---
Exhibit 6: Key Reserved Positions

---
Our data also shows that reserved slots are often paired. Most commonly, one partner has the right to appoint the CEO, and the other partner has the right to appoint the CFO or another key management position. In some agreements, however, this concept of pairing is applied more creatively or expansively. For instance, in IM Flash, a 50:50 semiconductor manufacturing joint venture between Intel and Micron Technologies, the agreements established Co-CEO positions, with each partner having the right to fill one of those positions. In other ventures, the CEO and COO (or Deputy CEO) are reserved for different partners, but are collectively structured as the Office of the CEO, requiring dual signatures for all key operating decisions. In other ventures, this idea is applied more fully across functions or the management team. For instance, in one natural resource joint venture in Egypt, the head for each function was reserved for the international partner, while the deputy of each function was reserved for the state-owned partner.
Most legal agreements require management team nominees to be formally approved by the JV Board of Directors (or equivalent governance body), even when that position is a reserved slot for one parent. Indeed, our data shows that 67% of venture agreements provide the other partner(s) with the ability to exercise a board-level veto on a partner's nominee for a reserved position. In our experience, Boards generally do review and deliberate on reserved-slot candidates nominated by a parent company, but are loathe to reject a nominee.
STRUCTURING FOR YOUR JV
Core Principles
We believe that outside of Global-Local JVs, companies should limit the use of reserved slots overall, put time-bound restrictions on slots when used, and ensure that the JV CEO (or equivalent) has the right to select from among multiple qualified candidates and the authority to set the objectives and performance manage all direct reports, including those in reserved slots. In our experience, the use of slots tends to undermine leadership accountability and management team cohesion, and erode the employee value proposition of direct employees of the venture who have promotion paths blocked by permanent owner-controlled slots.
With Global-Local JVs, the use of a few well-chosen reserved positions can be a valuable means for the parties to promote strategic objectives or secure needed controls. Global-Local JVs come in two basic types: classic foreign market-entry joint ventures, such as Starbucks Coffee's joint venture in Taiwan, and natural resource industry asset joint ventures in emerging markets like Brazil, Russia, Nigeria, Indonesia, or Turkey. In each case, international partners may want to negotiate the right to appoint the CFO, Controller, Chief Compliance Officer, or Head of Procurement as a way to secure additional controls around financial management, procurement, business ethics, and compliance. Or, depending on the company's contributions and ownership position, the international partner might seek to have the right to name the Chief Technology Officer or COO to help protect its intellectual property. Similarly, the local partner may find it valuable to have the right to appoint the VP-Human Resources as a means to both leverage its expertise in the local labor market and to ensure that the joint venture meets local employment goals and transfers technology.
Other Considerations
Other factors will influence the drafting of contractual terms related to top team appointment in joint ventures. For instance, local regulations or contractual precedents may require or establish a default that certain positions will be reserved for the local partner. In the aerospace and defense, petroleum, and mining sectors, state-owned companies and national governments often enter into joint venture negotiations with pre-set expectations that the local partner will have the right to appoint certain positions, such as a Deputy CEO or VP-Human Resources. Similarly, ownership split and corporate form may also impact on choice of terms. For example, an 80% owner in a joint venture will likely have the right to approve all members of the management team beyond the CEO, who might or might not require board approval.
Once the parties have decided on which, if any positions, should be reserved slots for one owner, they will need to define on how selection and approvals will work. Fixed slots generally convey the right to "nominate," not necessarily the right to unilaterally "approve" those nominees. Generally, non-appointing partners are given the right to approve management nominees because it helps to create buy-in and transparency. This is most commonly done through a vote of the Board of Directors, which implies consensus among owners. If that is the case, legal agreements typically note that the management positions in question are "subject to Board approval." If parent companies have fixed slots in an independent JV, where CEOs are supposed to have broader authority, secure the CEO's right to approve and require owners to provide him or her with a slate of two to four well-qualified candidates.
---
Lastly, the parties need to define whether reserved slots are perpetual or time-limited. For ventures that are intended to become more independent, consider establishing such appointment rights for, say, just the first five years. Companies should also make all management appointment rights conditional upon the nominating parent maintaining a certain ownership interest, and address contingencies involving transfers of interest and/or scenarios involving future restructurings.
With joint ventures, management appointment rights can create reserved seating or open tables for the JV top team. Which will you choose?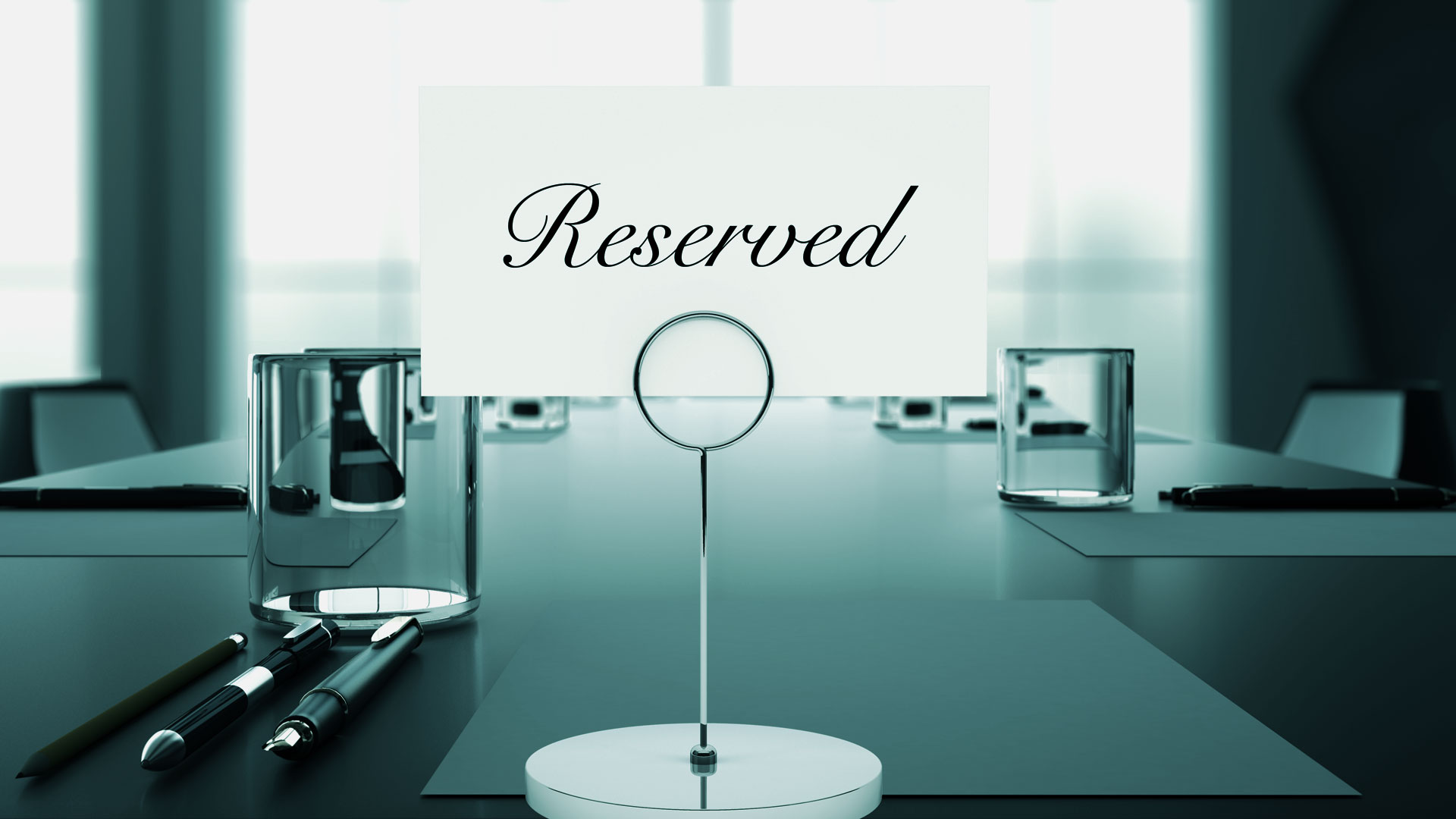 Print Article