Print Article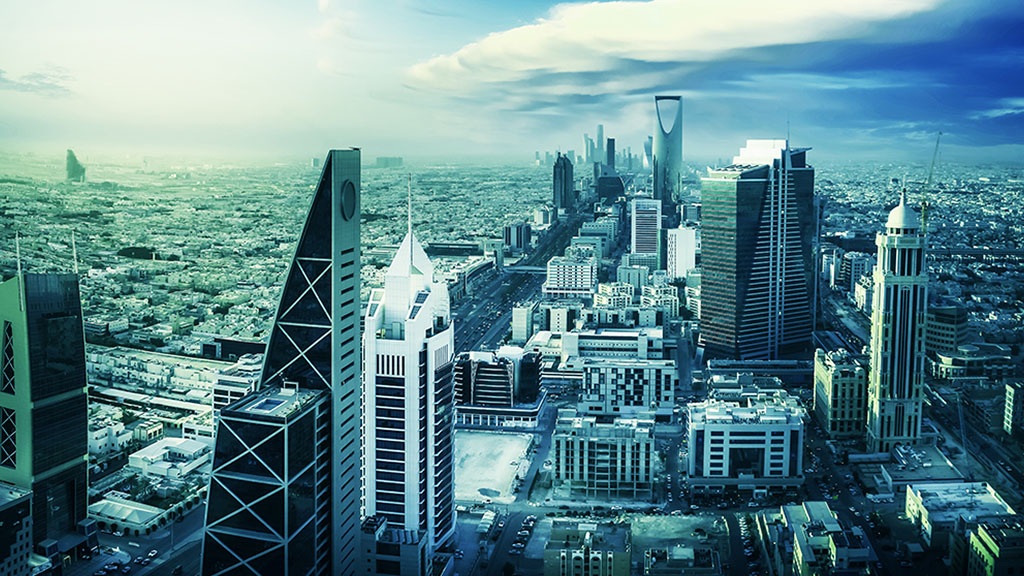 January 2022 — Saudi Arabia is making significant commitments to sustainability. The Kingdom aims to reach Net Zero by 2060, cut methane emissions 30% and build a renewables capacity of 58.7 GW by 2030, and make more than $180 billion in sustainability-related investments. Saudi Arabia's flagship companies including Aramco, SABIC, and the Public Investment Fund-backed ACWA Power have also set high sustainability targets for themselves.
We believe that these commitments – and more – are achievable, and partnerships hold the key to achieving them.
Partnerships already feature prominently in the various sustainability initiatives and projects backed by The Kingdom and its companies, helping share investments and risks, source technology and capabilities, and develop market opportunities. The recently launched Saudi Green Initiative is essentially a partnership between relevant government agencies and major Saudi companies collaborating on sustainability efforts within The Kingdom. The Sakaka solar plant and the Dumat Al Jandal wind farm that came online this year, and respectively The Kingdom's first utility scale renewable energy project and its first wind farm, were developed through partnerships. 70% of The Kingdom's targeted 58.7 GW of renewables capacity will be developed by ACWA Power in partnership with Saudi Aramco and the Public Investment Fund. A joint venture of NEOM, ACWA Power, and Air Products is building one of the world's largest green hydrogen production facilities in The Kingdom. SABIC is a founding member of the LCET initiative, joining its peer companies across the globe in developing and upscaling low carbon emitting technologies through targeted alliances in research, project co-investments, and co-marketing opportunities.
This list can go on.
However, the potential for sustainability partnerships by companies in The Kingdom has barely been realized, and remains immense.
Here is why.
Proportionately low volume of sustainability partnerships
Partnership volumes by Saudi Arabian companies surged by ~70% to record levels over the last year (see Saudi Arabia: The Shifting Sands of Partnerships). Sustainability partnership volumes also increased, but the increase was merely proportionate. As a result, sustainability partnerships made up only around 22% of total partnership volumes in 2021, the same as the previous year (Exhibit 1). Correspondingly, over the same period, while global partnership volumes surged by more than 90%, sustainability partnerships increased disproportionately by nearly 300% – with sustainability partnerships making up nearly 60% of 2021 volumes compared to around 30% in the previous year. Any convergence towards global trends implies an uptick in sustainability partnerships by companies in The Kingdom.
---
Exhibit 1: Sustainability Partnership Announcements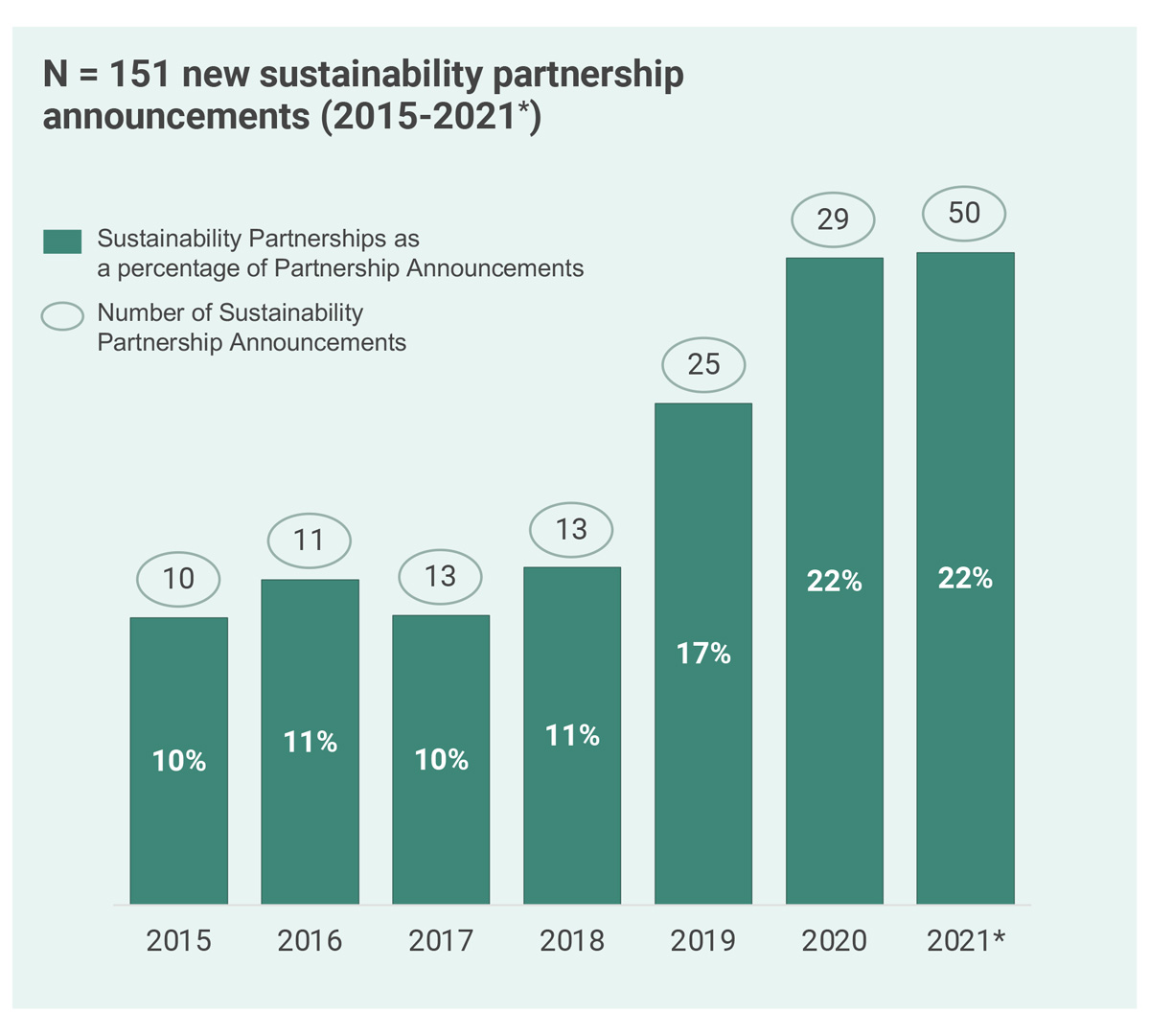 Sample of Partnership Announcements (2020-2021*)
ACWA-NEOM-Air Products
JV green hydrogen and ammonia project
Saudi Aramco-Modern-Intercontinental
MOU for green hydrogen and ammonia unit
ACWA-PIF-Saudi Aramco
JV for 1.5 GW Sudair PV IPP
Zahid-TotalEnergies
JV in commercial and industrial solar installations
Mowah-Engie
JV solar-powered water desalination plant
TAQA-Advance Resources
Alliance in carbon sequestration and storage
Saudi Aramco-Gaussin
Partnership in hydrogen vehicles
NEOM-Hyzon-Modern
MOU for hydrogen-powered vehicle value chain
Schneider-IHCC
Partnership in electric vehicle charging infrastructure
Velocity/PIF-Foxconn
JV in electric vehicles
SABIC-SIRC
Partnership in plastics recycling and conversion
SABIC-BASF-Linde
Technology partnership in electric furnaces for crackers
*January-December 2021

Source: Ankura Saudi Arabia JV & Partnership Database
© Ankura. All Rights Reserved.
---
Small installed base of sustainability-related assets and partnerships concentrated in a few technologies
The Kingdom is starting out on a strategic push into wind and solar projects as it tries to increase the share of electricity it generates from renewables. In comparison, countries in Europe, the Americas, and even Asia have a large installed base of wind and solar farms, a vast majority of which were developed – and are operated – through partnerships. Further, The Kingdom has just a few partnerships in controlling emissions and increasing circularity across sectors like transportation, industry, agriculture, and construction. For example, SABIC's partnerships in plastics circularity, Aramco's MOU with Modern and Intercontinental in building a green hydrogen and ammonia unit, PIF's potential venture with Foxconn in electric vehicles, and Taqnia's alliance with Advance Resources in carbon sequestration and storage. By contrast, partnerships in these sectors have proliferated in other regions and countries – and cover a wider swath of technologies including energy storage, biofuels, fuel cells, and waste and heat conversion.
This suggests that sustainability partnerships in The Kingdom will increase as it builds out its renewables-generation capacity, and invests in other emissions-reduction technologies.
Sustainability-commitments and efforts concentrated within a few companies
It is The Kingdom's larger companies and government agencies that are publicly committing to sustainability targets, and pursuing sustainability partnerships. We believe there is an opportunity for smaller companies and family-owned businesses to play a more active role in contributing towards meeting The Kingdom's sustainability targets – and in setting and meeting their own. And this opportunity is best realized through partnerships that will help these smaller companies and family-owned businesses access the relevant technologies, capabilities, resources, and funding.
Sustainability partnerships will play a crucial role in helping Saudi Arabia meet its sustainability commitments. Their volumes are poised for take-off.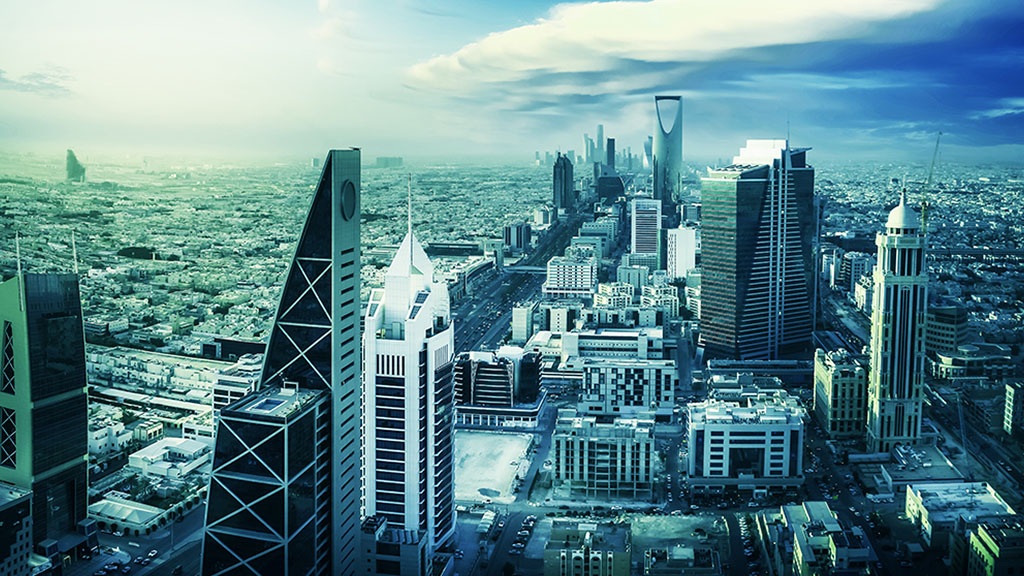 Print Article