Print Article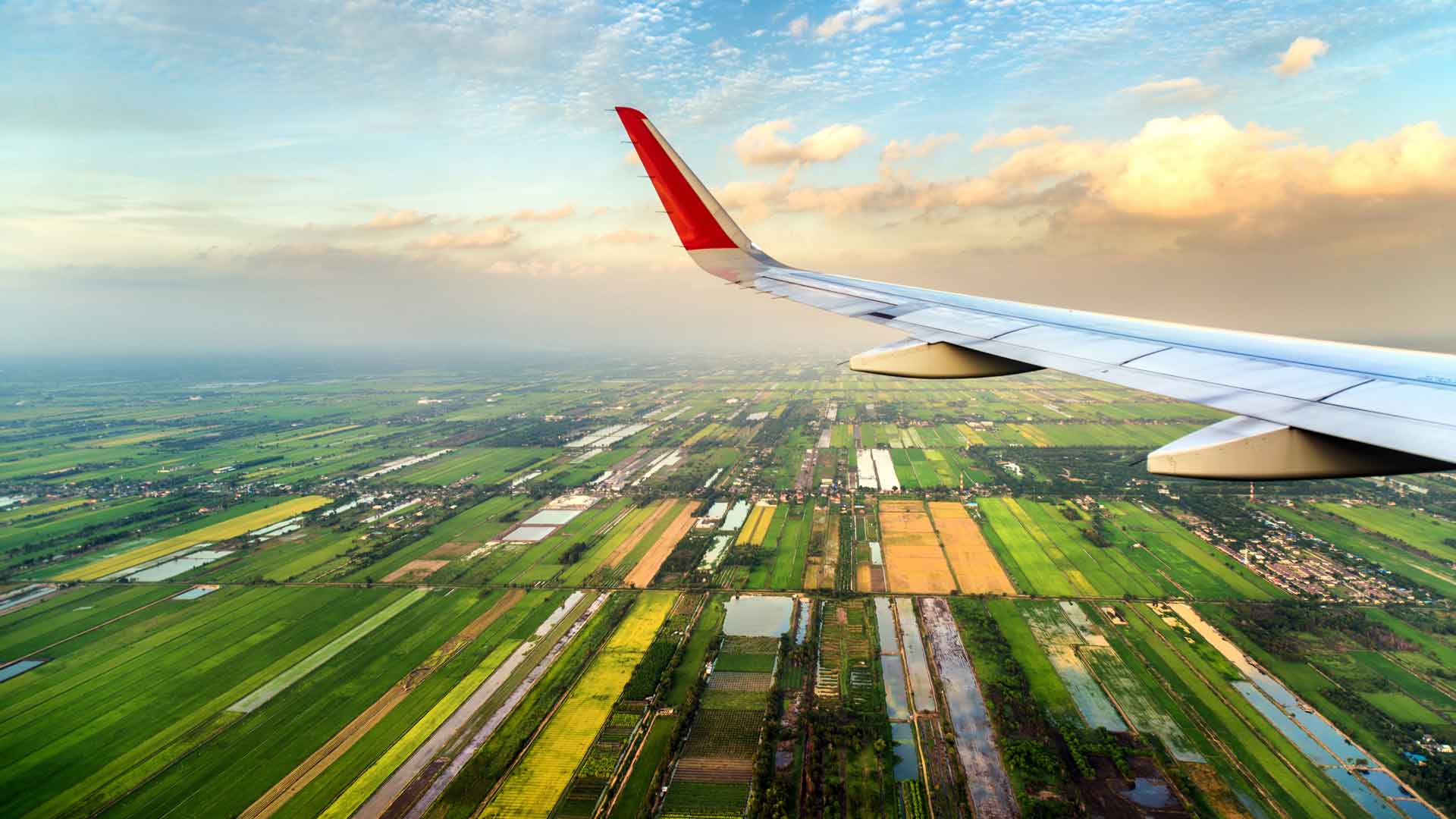 Part two in a two-part series
June 2015 — MANY COMPANIES find themselves managing increasingly inter-connected relationships with their corporate partners. These relationships may start off as isolated initiatives, but can quickly grow to include multiple touchpoints across different business units, functional areas, and geographies. ExxonMobil's joint venture portfolio, for example, holds more than a dozen different ventures with Royal Dutch Shell across different geographies and businesses. GM's portfolio features a broad strategic relationship with Chinese automaker SAIC, which includes 11 collaborations and joint operations that collectively account for more than 20% of GM's global profits.
Failing to deliberately manage a global strategic partnership – and instead managing each touchpoint in isolation – exposes the company to serious risks. Disparate people may send mixed or contradictory messages to the same partner, sowing the seeds of misalignment. Lessons learned in one venture may not be communicated to others, so preventable mistakes are repeated. And synergies that could be realized by adopting a portfolio-wide view of the partner go unnoticed and untapped. On the other hand, better management of corporate strategic partners can generate many benefits – including improved operational performance, improved risk profiles, improved identification and capitalization of "whitespace" opportunities, improved due diligence of future partnerships, and much more.
In Part 1 of this series, we discussed approaches that companies are using at the individual relationship level to deliberately manage their global strategic partners. The purpose of this note is to extend that thinking by providing guidance on how to organize at the corporate level to manage these corporate strategic relationships.
IS A CORPORATE UNIT NEEDED?
Depending on the number and nature of corporate partners, it may be appropriate to establish a small corporate unit to support the management of corporate partners – or to include these responsibilities within the work of an existing function, such as corporate development, external and government affairs, or alliance or joint venture management (if such a unit exists). Of the companies that have concluded that such added corporate focus is merited, different approaches have been taken regarding the location, leadership, and scope of such units.
Depending on the number and nature of corporate partners, it may be appropriate to establish a small corporate unit to support the management of corporate partners
At a large U.S. technology firm, the company created an SVP of Strategic Relationships with a direct reporting line to the CFO, and charged that executive with managing 8 to 10 corporate relationships, and building alliance management capabilities across the company. In contrast, a European energy company created a Corporate Relationship Management unit under the EVP of Human Resources & External Affairs (Exhibit 1). The unit housed the company's six Corporate Relationship Managers, who were organized into sub-teams responsible for managing cross-company relationships with six industry peers, and a similar number of state-owned companies. Unlike the U.S. technology company mentioned above, the European energy company limited the role of the unit to managing strategic corporate relationships – not promoting corporate functional excellence for joint ventures and partnerships more broadly.
---
Exhibit 1: Strategic Relationship Management – Example Structure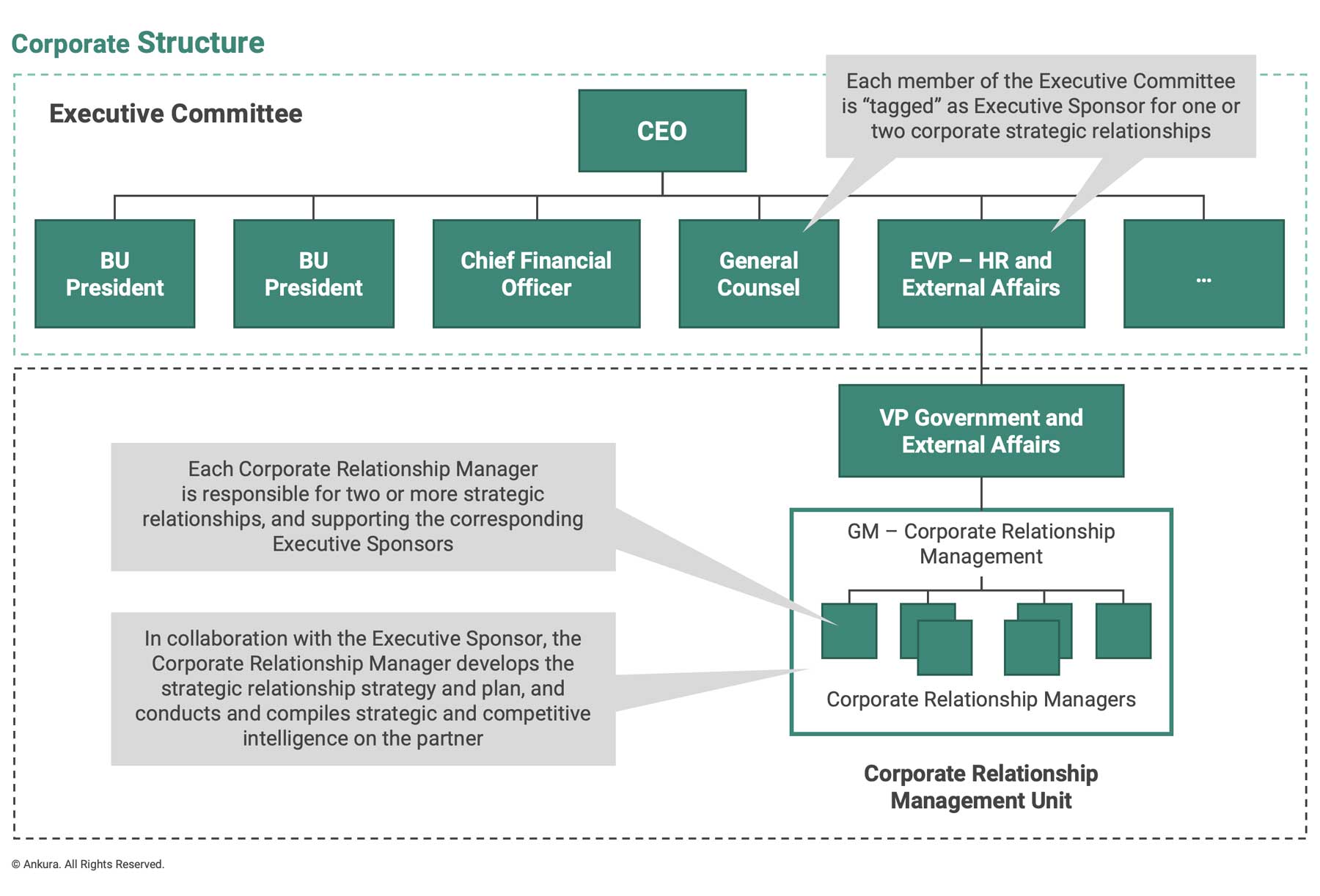 Note: Executive Sponsor and Corporate Relationship Manager are two of many best practices for strategic relationship management. For more information on these practices, see part one of this article, Managing Global Strategic Partners: In Isolation No More
---
When establishing a separate strategic relationship management unit, it is useful to ask a few basic questions. First, what activities will the unit perform initially? Our analysis shows that such units can play as many as seven high-level roles, although no such units perform all of these from the outset (Exhibit 2). The most foundational role – and one present in all companies that do this – relates to strategic partner management. This includes relationship strategy development, whitespace opportunity generation, partner intelligence gathering and analytics, and ongoing strategic partner management and tracking. Beyond this, such units sometimes get involved in the sourcing of new strategic partners, supporting deals with such partners, promoting the company's reputation as the industry Partner of Choice, assisting company teams working on individual ventures with a strategic partner, and developing corporate capabilities and policies for joint venturing and partnering.
---
Exhibit 2: Potential Focus Areas for a Corporate Relationship Management Function
---
A second and related question: What partners will the unit initially support with regard to the agreed-upon roles and activities? For example, will the unit be limited to supporting the small handful of the company's most strategic partners, or will it extend to the larger set of partners whose relationships simply touch multiple business units, functions, or geographies? Third, how will this initial focus – in terms of both roles and partners – evolve over time? Perhaps a unit is to be initially tasked with strategic partner management as its core function, but with a view toward expanding the role to include new partner sourcing, and Partner of Choice brand building. Fourth, how will the unit work with business units and functions that touch these strategic partners, and indeed "own" the local relationships? It is certainly not the case that a small corporate unit should control all that happens with a corporate partner. And lastly, how will the unit measure success – and know whether its efforts are working or not?
The most effective, efficient way to manage global strategic partners and gain real visibility into how those relationships are working is to have a team dedicated to the task
Regardless of the answers to these questions, however, where a company has a sufficient number of corporate relationships, the key question as to whether to establish a strategic management function really is a foregone conclusion. The simple fact is – to stay above the fray with real visibility into how those relationships are working (or not) is a predicate to being able to manage these relationships effectively. And the most effective, efficient way to do that is to have a team dedicated to the task.
Box 1: Risks and Traps
On the surface, managing corporate partners may look pretty straightforward – achieved by a combination of corporate focus, and the application of a dozen or so management practices. Unfortunately, history tells us otherwise – and that a number of risks and traps await those venturing into the landscape.
While failure has many fathers, it is useful to think about the risks and traps on two levels. First are the risks to individual corporate partners – i.e., events or issues that cause individual relationships to unravel, or fail to gain sufficient traction. The GM-Peugeot corporate partnership, despite significant investment, fanfare, and early promise, is in a skid. Just 18 months after joining up, GM sold its 7% equity stake in Peugeot for ~$340 million, and put the brakes on at least two of three joint vehicle projects. What remains is a minivan joint production operation, and a European logistics cooperation that aims to reduce distribution costs for both businesses. Second are the traps that companies fall into when launching the broader effort, including corporate units, to improve the management of corporate partners. Such traps include over-centralizing this function (and disenfranchising the business units that actually spawned and own the ventures that create all the value), and focusing too much attention on large industry peers, rather than smaller, less traditional partners who might be the strategic partners of the future.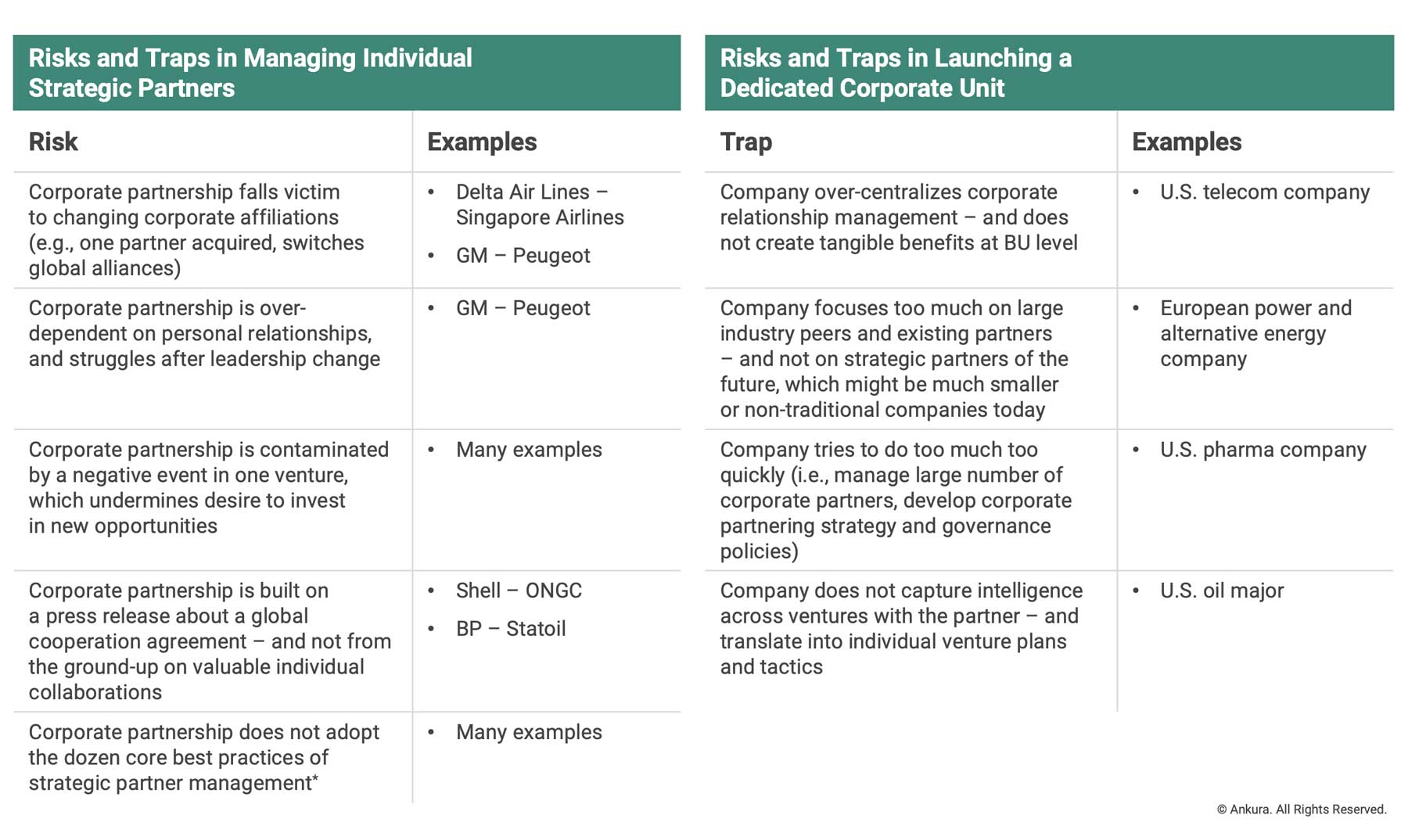 For more information, see part one of this article, Managing Global Strategic Partners: In Isolation No More
Getting the most out of any relationship is hard work – and relationships with your global strategic partners are no exception. Organizing at the corporate level, by establishing a corporate unit with dedicated resources, is a sure way to make it work. Are your relationships built to last?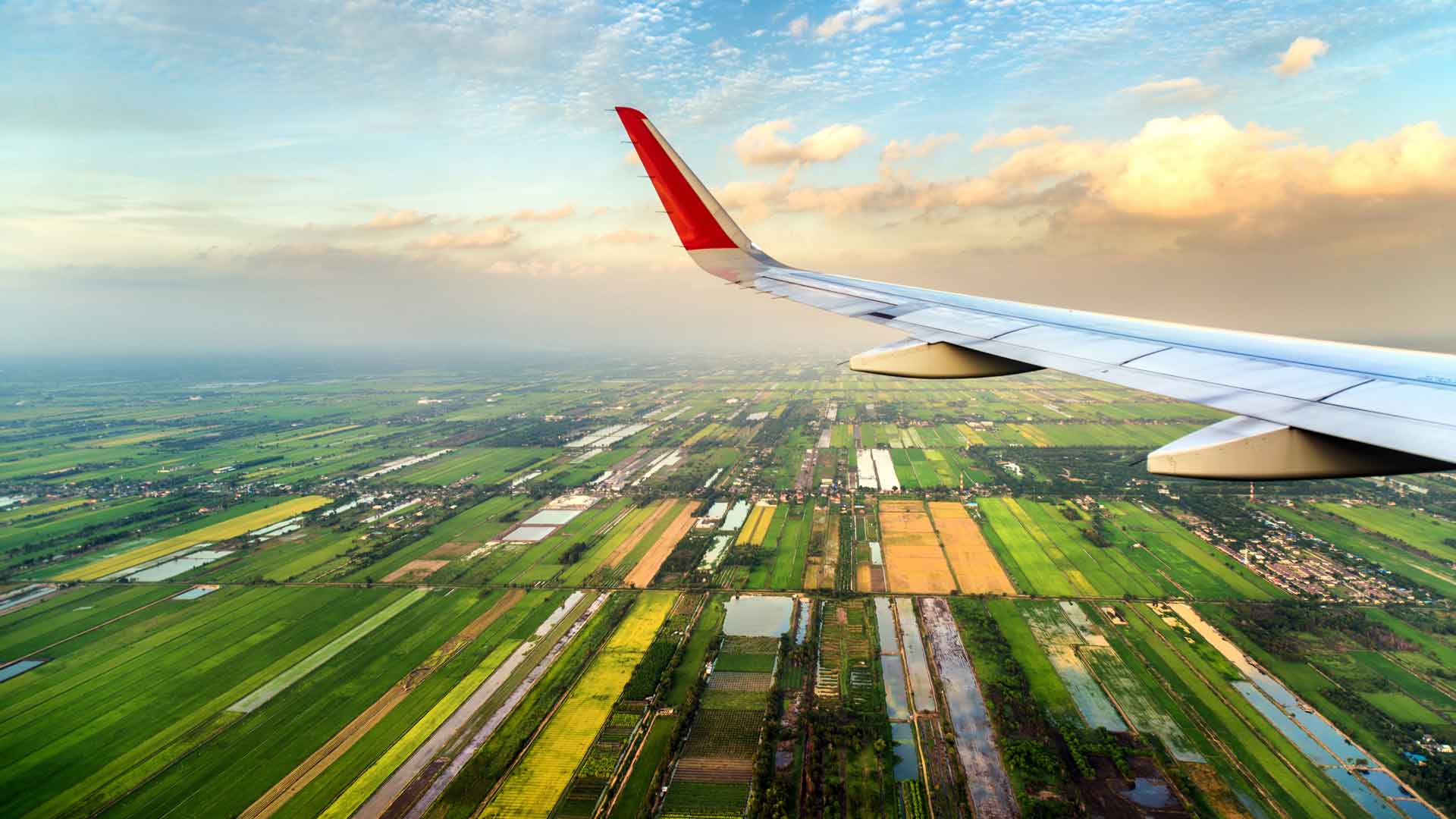 Print Article