Print Article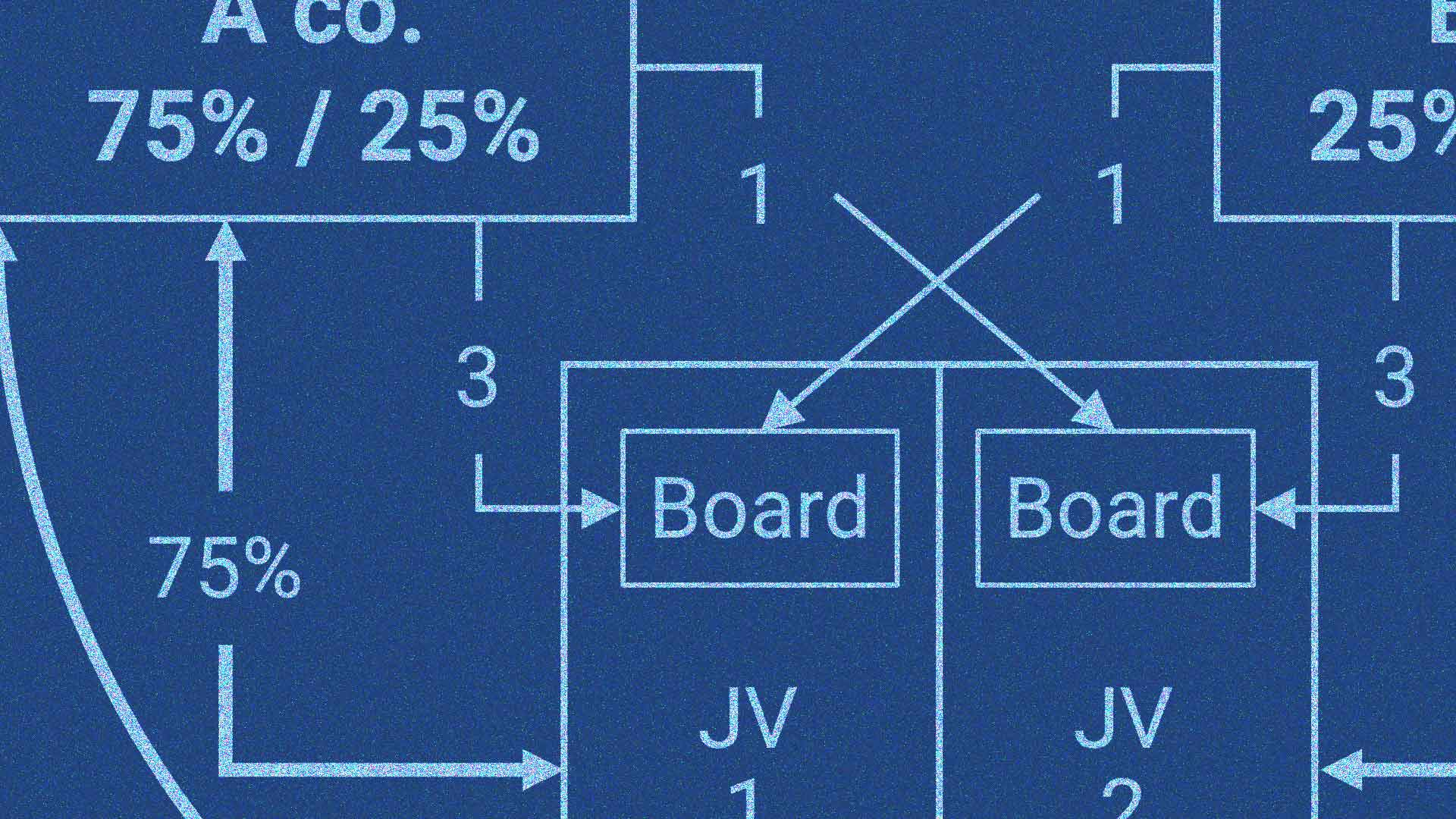 February 2012 — AS COMPANIES NEGOTIATE new JV agreements, they often run head-on into serious-looking obstacles related to ownership, valuation, and control. A company might be surprised that its contributions are valued at less than those of its partner – putting it on an unpalatable path to a minority, non-controlling position. Or deal discussions might reveal the partner has a divergent appetite for future investment. For example, in a JV to develop and commercialize a new alternative energy technology, one partner was highly interested in investing in local production facilities in South America that used the technology, whereas the other partner wanted to selectively invest in production assets in Europe while focusing on licensing the technology to asset owners around the world. In other cases, local regulations might prevent a foreign partner from holding a majority interest in a JV – but the foreign company needs control of key aspects of the business.
These obstacles need not be deal-breakers. The beauty of joint ventures is their flexibility to overcome such issues.
The purpose of this memo is to summarize seven common JV ownership and control models – including a number of creative constructs designed to meet different shareholder needs for control, to better manage uncertainties around the value of contributions (such as products under development or IP), and to accommodate future differences in shareholder appetites for JV growth and investment. These models should be of especially high interest in industries such as alternative energy, aerospace, industrial high tech, and media that are experiencing a burst of new venture activity.
SEVEN COMMON JV OWNERSHIP AND CONTROL MODELS
In many companies, the lens for looking at potential deals can become too narrow and conventional. Our database of more than a thousand JVs and analysis of public filings show seven common JV models – "archetypes of ownership and control." As companies enter deal negotiations, it is worth understanding these models, and knowing which (if any) best fits the needs of the situation.
---
Model 1: Standard-Form JV
ILLUSTRATION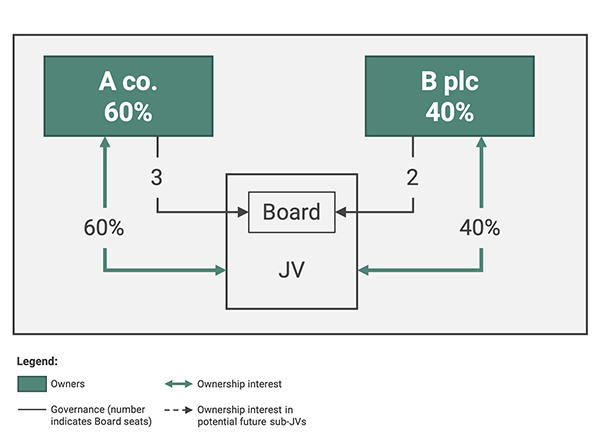 Description
Partner contributions and valuations agreed and fixed; one JV entity; governance, control, and financial arrangements correspond proportionately to value of contributions
How to Achieve
Identify and value contributions, select desired legal form (e.g., corporation, LLC, partnership), craft JV agreement, register new entity, transfer assets, and distribute interest or share holdings
Examples
Numerous JVs across industries and geographies
© Ankura. All Rights Reserved.
---
The most common JV ownership structure remains the "Standard-Form JV" – which also tends to be the easiest to execute and manage. In a Standard-Form JV, the partners create one entity, use the valuation of their contributions (e.g., physical assets, capital, IP, brands) to determine a split in ownership interests, which in turn links directly to governance and control rights. The difficulty in negotiating this model is achieving agreement on the parent company contributions and their valuation. Its benefit is inherent alignment – at least in terms of control and economics.
Many JVs work this way, including numerous JVs in telecoms, alternative energy, and industrial sectors. The Standard-Form JV can be thought of as the base model from which all other constructs are derived.
---
Model 2: Majority-Owned JV with 50-50 Control
ILLUSTRATION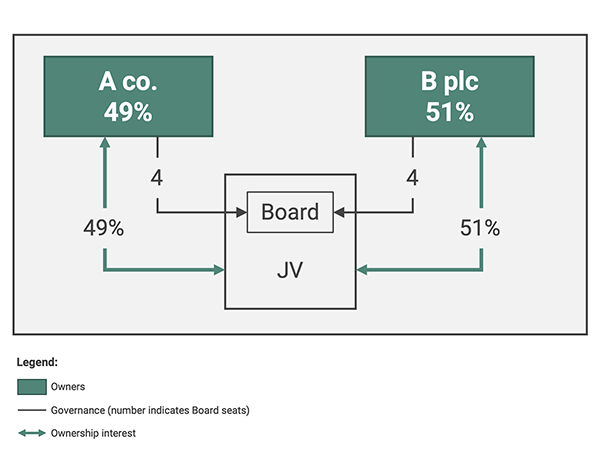 Description
One partner is majority owner – but JV structured to be governed as 50-50
How to Achieve
Form a standard JV with multiple share classes; assign share classes different rights – e.g., both partners have 49 A shares and one has an additional 2 non-voting B shares (economic flows could be negotiated separately or they could simply be proportional to ownership)
Examples
MillerCoors (SABMiller-Molson Coors Brewing)
Cingular (SBC Communications-BellSouth)
Solae (DuPont-Bunge)
Dell Financial Services (Dell-CIT)
TRW Koyo Steering Systems (TRW-Koyo)
© Ankura. All Rights Reserved.
---
In some cases, JV partners untangle ownership and control – often to allow the venture to be governed as a 50-50 partnership despite unequal economic interests. This can be executed by creating multiple share classes and is commonly used when either: (i) contributions are not equal and the partner with lesser contributions desires equal control or (ii) government regulation requires that the venture is majority owned by a domestic partner.
Solae, a JV conceived by DuPont and Bunge to produce and distribute soy proteins and lecithins, is an example. DuPont contributed its protein technologies food ingredients business for a majority interest in the venture, while Bunge contributed its specialty food ingredients businesses for a 28% interest plus cash to be funded by JV debt. To equalize control, each party agreed to nominate two members of the JV's Board. This allowed DuPont to claim profits from the JV in proportion to the value of its contributions, while allowing Bunge an equal voice in the Boardroom.
Cingular, a 60-40 JV formed by US telecommunications giants SBC Communications and BellSouth (now collectively AT&T) to provide wireless telephony services, also had 50-50 control at the Board level despite unequal ownership stakes.
---
Model 3: Variable Ownership JV Based on Contribution Performance
ILLUSTRATION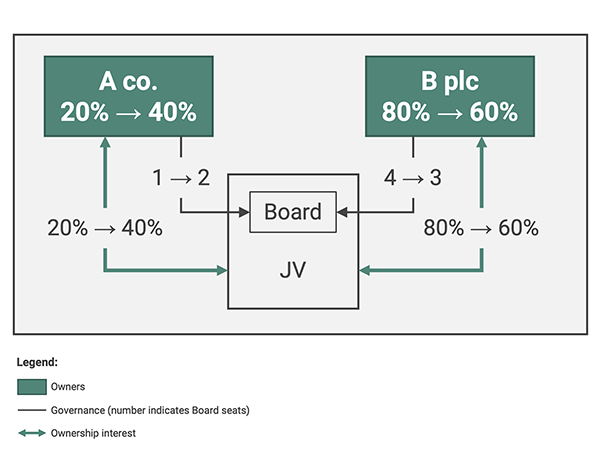 Description
Partners structure JV as a contingent contract where ownership is tied to future (e.g., 1-3 year) performance of each partner's contributions
How to Achieve
Form a standard JV and craft contingent contracts that define performance milestones and metrics tied to future adjustments to ownership – e.g., if one partner sells 500,000 widgets in the first year, then its ownership stake would increase to 40% from 20% and so on for the first several years of the JV's life
Examples
ViiV Healthcare (GlaxoSmithKline-Pfizer)
© Ankura. All Rights Reserved.
---
In some situations, the partners plan to contribute assets (e.g., IP, future product pipelines) to a venture that have highly uncertain potential, or where the partners have highly divergent views of the value of these contributions. Here, the partners might consider a "Variable-Ownership JV" where the value of these contributions is contingent upon future performance. In other words, the partners' ownership stakes adjust, usually in the first few years, based on how well these contributions perform. To do this, the parent companies agree to milestones and metrics against which the specific contributions (if isolatable) will be assessed, then link achievement of those targets to defined adjustments to the ownership split.
A recent illustration of this is ViiV Healthcare, a JV between GlaxoSmithKline (GSK) and Pfizer to conduct research, development, and commercialization of HIV medicines. Each company had a different view of the value of their contributions and knew that there was significant uncertainty given the stage of the HIV/AIDS drugs in their pipelines. The solution was to place each company's current and developmental HIV/AIDS drugs into a JV, with contingent ownership splits based on product pipeline performance. The JV would start as a 85-15 ownership structure in GSK's favor, but would shift to 75-25 if both parties hit their targets, to 70-30 if only Pfizer achieved its targets, and to 91-9 if only GSK realized its targets. This model gives both partners a degree of control over the ultimate valuation of their contributions, deemphasizing the importance of the initial valuation. The key to designing any contingent model is to ensure that forecasts are well understood and clearly defined, and to limit the "at risk" portion of the valuation such that potential fluctuations in ownership and control are not so large as to be destabilizing.
---
Model 4: Twin JVs
ILLUSTRATION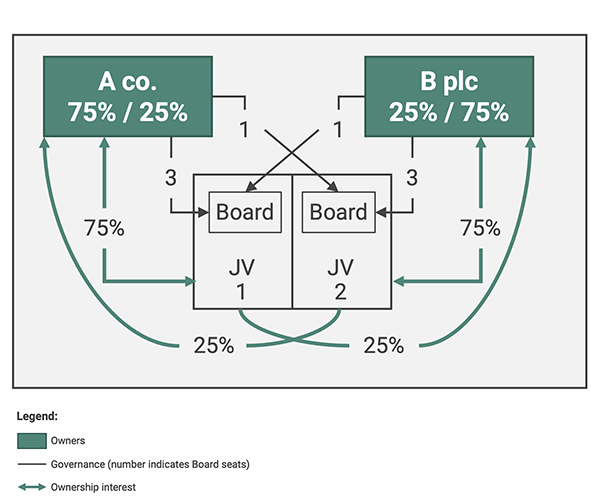 Description
Partners create separate JVs with different ownership and / or operatorship based on geography, individual performance history, or competitive advantage
How to Achieve
Form multiple standard JVs each with different target markets or functions, and one or more bodies (e.g., Boards, Committees, Councils, small management team) to coordinate them
Examples
Cenovus Energy-ConocoPhillips
BP-Husky Energy
© Ankura. All Rights Reserved.
---
A different approach to tailoring ownership and control is to sub-divide the venture into multiple, coordinated JVs. We call this model "Twin JVs," as typically it is formed by creating two separate but inter-related JVs with different ownership splits and operating models. This model is commonly seen when the partners come to the venture with assets and expertise in different geographies (e.g., Europe vs. Latin America) or parts of the value chain (e.g., mining vs. refining), and want to maintain a higher-degree of operating involvement and control in those areas where they have greater experience or strategic interests. Depending on how the Twin JVs are structured, it may: (i) limit a partner's exposure to certain geographies or market segments by selectively weighting ownership across the JVs and (ii) allow each partner to exploit its competitive advantages by maintaining operatorship over legacy assets or businesses where they have deeper expertise.
ConocoPhillips and EnCana (now Cenovus Energy) created Twin JVs to produce and refine heavy oil in the Canadian Oil Sands. EnCana contributed its Foster Creek and Christina Lake heavy oil projects in Alberta, while ConocoPhillips put in its US-based Wood River and Borger refineries. The ConocoPhillips and EnCana assets were then connected via a pipeline. This collaboration filled gaps in both partners' portfolios giving ConocoPhillips access to large amounts of secure reserves and EnCana access to North American refining capacity. The partners formed two separate JVs, allowing them each to maintain operatorship and significant control over their legacy assets.
In most Twin JVs, the partners will establish a "coordinating committee" or have overlapping representation on each JV Board in order to coordinate and govern the inter-related businesses. The challenge inherent to this model is getting the communication channel right – determining how heavy or light to create the organization that coordinates the JVs; how much power and authority to give that group; and, for what to hold that group truly accountable relative to the operators.
---
Model 5: Umbrella JV with Sub-JVs
ILLUSTRATION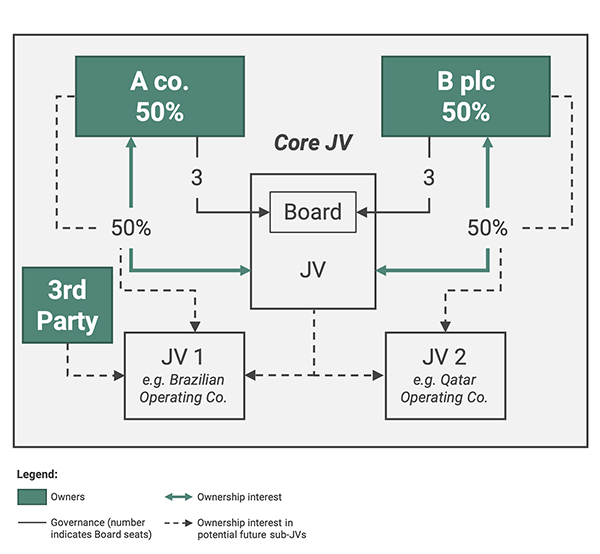 Description
Partners establish "Umbrella JV" – often as global vehicle to develop and commercialize new technology; JV agreement then anticipates / allows for Sub-JVs, potentially with 3rd parties, to build local production assets, pursue adjacent markets
How to Achieve
Form a standard JV as the Umbrella JV, while structuring the JV agreement to allow for the formation of sub-JVs
Examples
The Clearing House
Sasol Chevron
© Ankura. All Rights Reserved.
---
Sometimes, it is best for the partners to create a JV, often with 50-50 ownership, and underneath it plan to hang Sub-JVs with potentially different ownership structures. The Umbrella JV may be a freestanding business with a limited product scope, or a vehicle to conduct and commercialize joint R&D. Typically, the Sub-JVs are then used as vehicles to invest in local production facilities that license the Umbrella JV's technology, or to pursue adjacent markets where the owners may not have the same appetite for investment.
Consider a biofuels JV between an international oil company and a major chemicals company to develop and commercialize a next generation biofuel. The companies formed a 50-50 "Umbrella JV" that is responsible for coordinating development of the technology, and for identifying commercialization opportunities for that technology around the world. Underneath that JV, the partners created a structure that enables local investments to be pursued through Sub-JVs. These Sub-JVs might have 50-50 ownership – but not necessarily. The Sub-JV structure allows the partners to vary from this ownership formula – for instance, because they have different investment appetites or views of a local market. It also allows the partners to bring in third parties, such as local sugarcane feedstock suppliers, as equity owners in local production assets,
without diluting their 50-50 ownership of the Umbrella JV.
The Clearing House, a banking industry utility owned by major money center banks in the US, has also used a Sub-JV structure. As a way to attract new owners – and allow owners to target investments in product lines they were interested in – the Clearing House created a series of separate Sub-JVs aligned with different product lines (e.g., electronic funds transfer, electronic check clearing, and paper check exchange and settlement). This structure enabled an expansion of its ownership group by allowing new banks to participate in those areas of the business that were of interest – and not be equity owners in the holding company.
There are different ways to structure the legal agreements to accommodate the formation of Sub-JVs. In alternative energy, it is common for the shareholders agreement to define a process for how one partner might propose local investments, and the rights of the other partner to participate in those investments. For example, in the venture mentioned above, each partner has the right to propose an investment to commercialize the technology or derivative in a market where the JV does not currently have production facilities or licensing agreements. The first option is that the partners pursue the investment through the JV – i.e., establish a new wholly-owned affiliate where the partners make equal capital contributions to fund those local facilities. However, if one partner does not want to invest as an equal partner, it has 120 days after receiving a full business plan from the proposing partner to inform the JV Board that it will not participate at all – or that it will participate at an equity level between 20% and 49%. If that partner wanted to participate as a minority partner, the companies would create a local Sub-JV – which may include third party investors or feedstock suppliers as owners.
In general, the rationale behind this structure is to maintain 50-50 ownership and control at the global holding company level, to avoid deadlock over local investments, and to give the venture flexibility to bring in third-party owners in specific projects and opportunities without diluting overall ownership.
---
Model 6: Customer as Equity Owner JV
ILLUSTRATION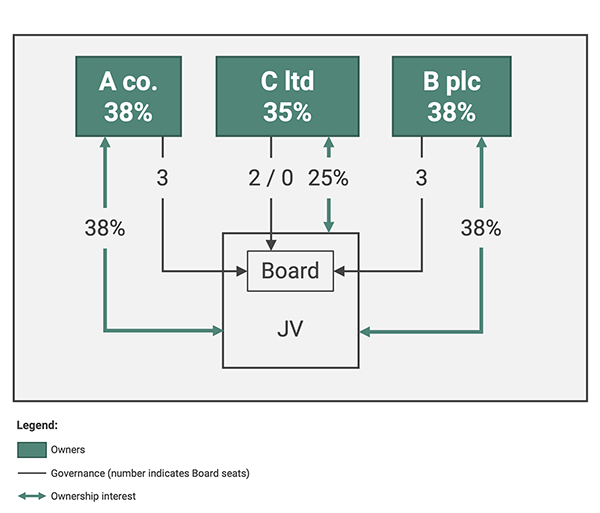 Description
Partners create structure which anticipates / allows for major customers, usually as part of large off-take / supply agreements, to buy into JV as equity holders
How to Achieve
Form a standard JV with multiple share classes and structure JV agreement to provide the flexibility to bring in new partners; assign the share classes different control rights, particularly regarding marketing decisions in which the customer-owners would be conflicted
Examples
North West Shelf Venture
APLNG (Origin-ConocoPhillips-Sinopec)
© Ankura. All Rights Reserved.
---
In other situations, the JV capital structure is crafted to anticipate that one or two major customers may demand the right to buy into the JV as equity holders. In the natural resources sector, customers often commit to massive long-term purchase or off-take agreements (e.g., $50 billion over 20 years). Rather than simply be strategic buyers of the JV, these customers sometimes use equity to align incentives, to gain transparency into venture strategy, operations, and governance, and, in some cases, to acquire knowledge and skills. By its nature, this model evolves as new customer-owners join, adding new interests and concerns to what are often times already very crowded boardrooms.
The liquefied natural gas (LNG) sector provides many illustrations of this model. Electric utilities and energy companies from major gas-consuming countries such as China or Japan at times have simultaneously secured LNG supply for their domestic markets and purchased an equity stake in their LNG supplier, which is often a JV. One of the largest LNG ventures in the world is the North West Shelf Venture (NWSV), a 25-year-old JV that is one of Australia's most important energy projects. Of NWSV's seven partners – Woodside, Shell, BP, Chevron, BHP Billiton, MIMI (a JV between Mitsui and Mitsubishi), and CNOOC (a China-based oil company) – two have entered into the venture as customers, with an interest in securing LNG for their home markets.
In structuring a Customer Equity JV, the partners typically create multiple share classes with different rights. For example, equity-holding customers are usually allocated shares that give them general voting rights except on marketing and commercial issues where, as the buyer, they are inherently conflicted.
---
Model 7: JV plus Direct Equity Investment in Partner
ILLUSTRATION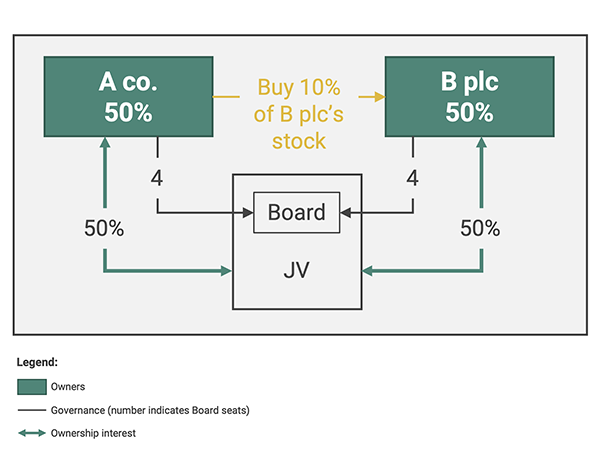 Description
Partners create a standard form JV, while also making an equity investment in Parent Companies
How to Achieve
Form a standard JV and purchase an equity stake in the other parent company.
Examples
Renault-Nissan
Goodyear-Sumitomo
© Ankura. All Rights Reserved.
---
Finally, in certain cases, a company will take a direct (usually minority) equity interest in its partner, and also form a JV with the partner. This structure was quite common in the 1980s and 1990s. In cross-border deals with Japanese and other Asian companies, for example, this structure was viewed as a gesture of deep intercompany partnership and commitment. Renault continues to hold an equity stake in Nissan in order to anchor a broad-based partnership that includes multiple JVs and deep cross-functional collaboration. We have seen something of a re-emergence of this structure in alternative energy and industrial high-tech, where large global companies are forming JVs with – and taking equity stakes in – smaller technology players.
There are a number of reasons why companies might use this structure. A direct equity investment at the parent-level may provide the investor with added transparency into the workings of its partner and greater influence at the Board level. The investment may also help shore up the finances of the (usually smaller) partner, and thus create greater stability for the JV. As we have seen in several Black Economic Empowerment (BEE) JVs in South Africa, it can be a way for the larger player to generate multiple dividend streams – through the JV and the direct equity investment – and thus realize majority economic returns in a JV despite having a minority position. In other cases, companies like General Electric and Intel have taken direct investments in their partners because they see them as great investments – investments that are made even better because the markets see the investment as an endorsement of the smaller company's technology or market potential.
PICKING AMONG THE MODELS
Picking the right ownership and control model requires balancing several factors, including deal transactability, ownership flexibility, operations and governance efficiency and effectiveness, and economic alignment (Exhibit 1).
---
Exhibit 1: Choosing Among the JV Models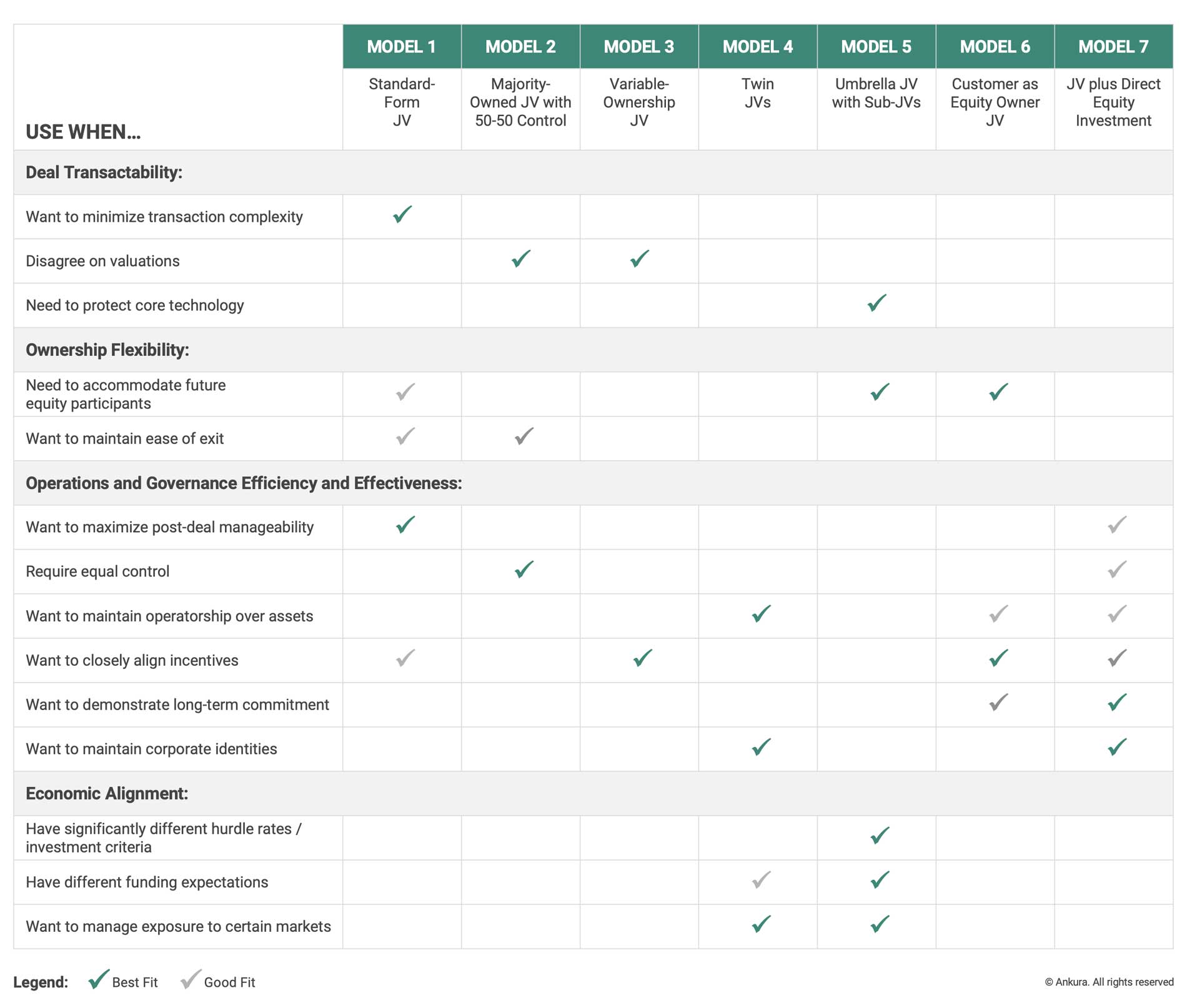 ---
Most times, a few (rather than all) of the factors will determine the preferred model. For example, parties with substantially different hurdle rates and investment criteria may jump to an Umbrella JV with Sub-JVs, realizing that future investment flexibility is the principal factor in the negotiation. On the other hand, a JV in which the counterparties are more closely aligned on control and economics may want to balance a variety of factors, bringing several models into play.
A proper appreciation of company and partner interests – their concerns and constraints – is crucial to the JV dealmaking process. After careful consideration, select an ownership and control model that works best both for you and for your partner.
So, which ownership and control structure is right for you?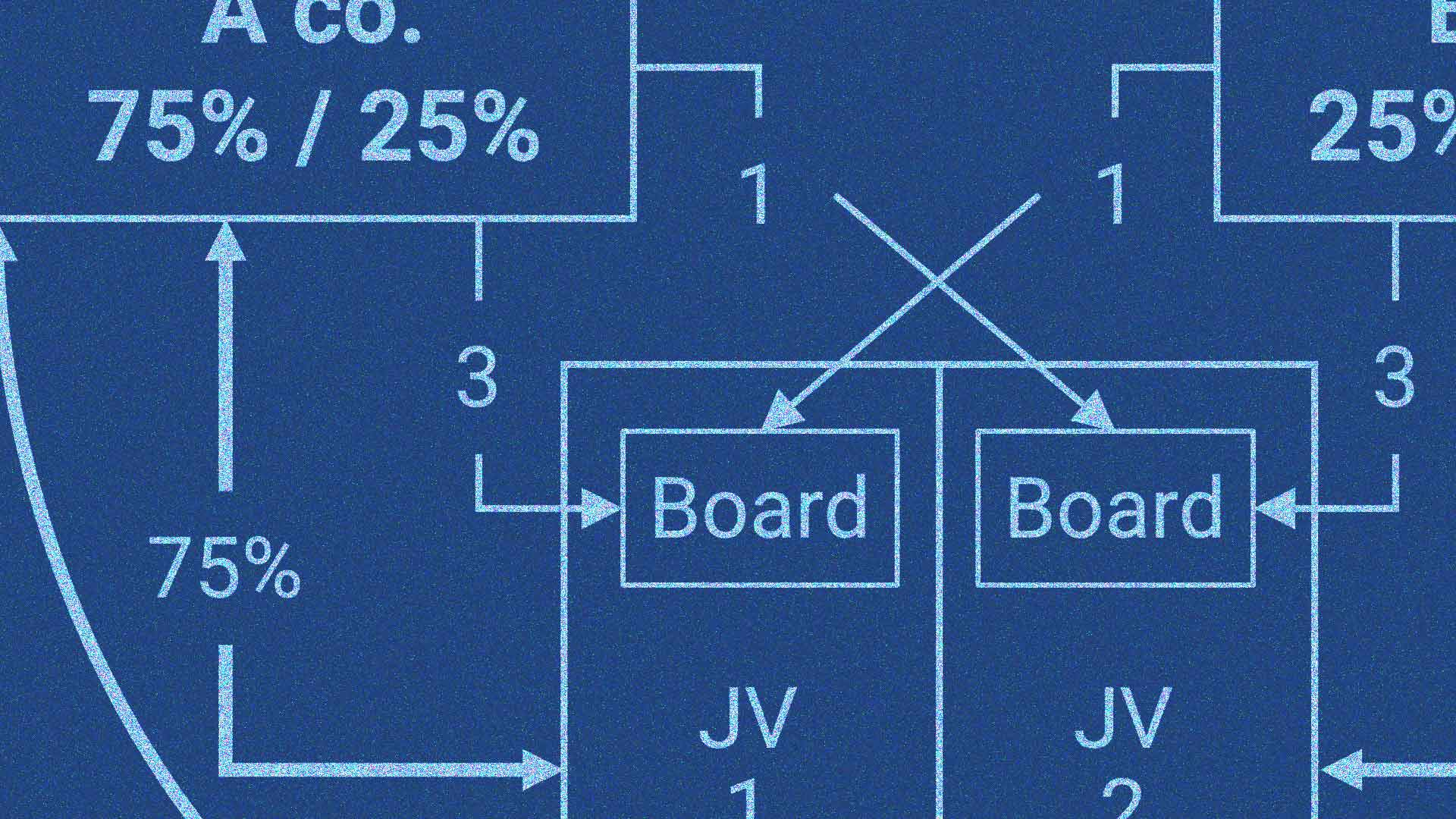 Print Article